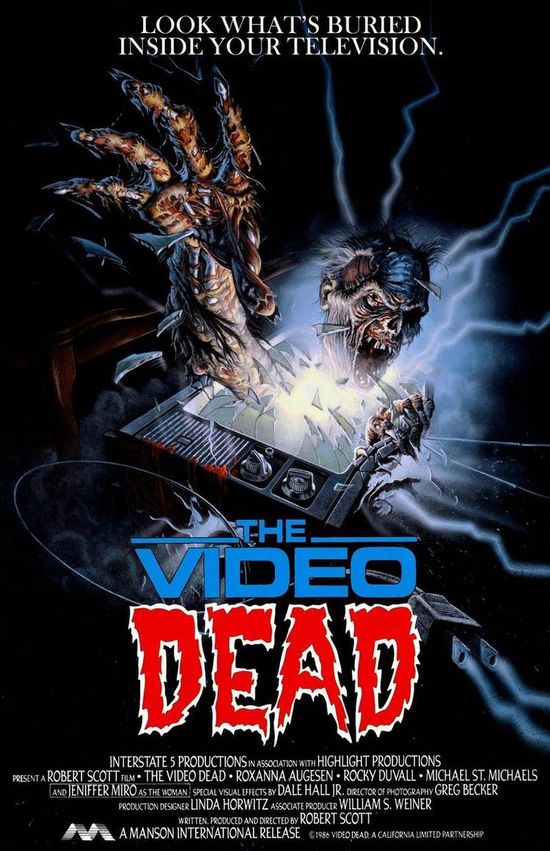 Year: 1987
Duration: 01:30:20
Directed by: Robert Scott
Actors: Michael St. Michaels, Thaddeus Golas, Douglass Bell
Language: English
Country: USA
Also known as: Zombie – Bloody Demons, La muerte viaja en vídeo
Description: Due to an error at mail service a TV transported to the Institute of occult sciences, gets to the wrong address. If the TV is on, it will show only one film – "a bloody nightmare of zombies." If you turn it off, it will still show the film. And then all zombies climbs out of the TV. But if you pretend that they are ordinary real people and not be afraid of them, the deads won't touch you.
Review: This is an excellent film. This is one of those zombie horror that will make you shiver. He is one of the few zombie horror that will be remembered for a long time!
"Video Dead" – second-best zombie horror, shot in the late 80's Robert Scott, who, incidentally, took only two films. About the quality of the second film with the title «Ratdog» I can not say anything, but apparently, this movie got a bone in the throat of Scott, because he started very nicely, taking off a great movie like "Zombie – Bloody Demons."
The film is not like a previously unreleased (except a little on the "Night of the Living Dead" by George Romero, but where to hide, if not in the house?), Although the court was the 87th year, and all the fun seems to be snapped up and the Italians French with their "zombie-N» and "Lake Living Dead." However, Scott got out. So "Telemertvetsy" not similar to any of the previously visible.
The plot of the movie is good. Quite original and spectacularly turned out. Frankly, from a TV with a zombie I was expecting something that was from the "Killer Condom", but I was wrong. "Video Dead" – a beautiful nugget that catches the eye of each face.
Behind me is full of zombie horror, from the father of zombie flesh eaters, – George Romero – and ending with the works of individuals such as Bruno Mattei and Jesus Franco. And none of these films could not scare me as much as this one. It is saturated atmosphere, the atmosphere of fear and hopelessness. Actors playing zombies, just in height, they perfectly capture their characters. Only one zombie made me nervous, as a zombie bride, for example. Their appearance, behavior, their sound was seriously scary. They are brilliant.
Make-up in the movie, of course, is not what is happening in the "Day of the Dead", but not worse. Although I prefer zombies painted with white paint faces, not make-up freaks of the "walking dead", then I am more inclined to this makeup. Looks quite atmospheric. And startled by what he saw.
And, devil take him, how can they make me nervous film shown on TV! This dark, black-and-white horror film, his little passage in which the creatures wander in the woods. It looks really scary.
Acting – here, perhaps, minus the film. Well, yes, yes. Aspiring actor – and thanks for that. There generally is not no good, all held on the middle. But this is not bad. At least, plus more.
Bottom line: "The Video Dead" – Mighty horror with good twisted plot, excellent zombies and terrifying atmosphere. And what do you need zombie horror? Really – nothing. Therefore, I recommend "Bloody Demons" and all. This is – one of the best films about zombies.
Screenshots:
Download: