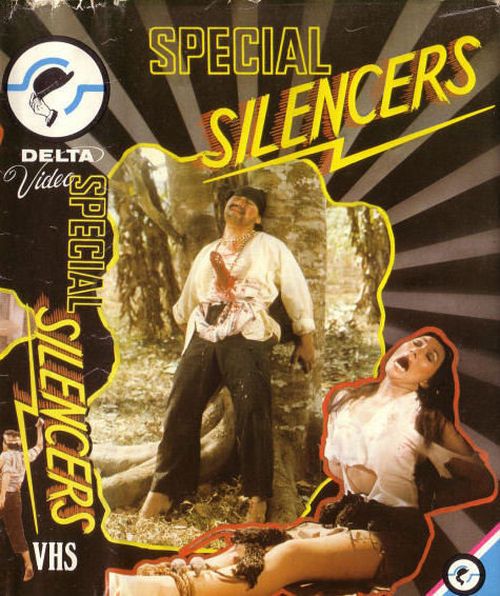 Year: 1979
Duration: 01:26:03
Directed by: Arizal
Actors: Barry Prima, Eva Arnaz, W.D. Mochtar
Language: English(Dutch subtitles)
Country: Indonesia
Also known as: Not available
Description: Barry Prima (Ferocious Female Freedom Fighters) gets involved with an intrigue to take over a tribal government. The Special Silencers are pills which make trees grow out of your stomach. Tons of fun, kung-fu fights and gore scenes in this funny Indonesian flick.
Review: This bloody Indonesian flick concerns little red pills ("special silencers") that assist monks in meditation. In the wrong hands, however, they cause a tree to grow in the victims stomach, which explodes through his skin. Lots of kung-fu and weirdness to go around on this one.
Most sources claim that this wild, gory and insane Indonesian action flick was made in 1979, shortly after Sisworo Gautama Putra delved head-first into hilarious exploitation with his bad-taste laugh-riot PRIMITIF (1978). However, SPECIAL SILENCERS was produced by PT Parkit Film in 1982, one year after the ground-breaking and splatter-packed cult hit JAKA SEMBUNG (THE WARRIOR, 1981), that catapulted Barry Prima into superstar status. SPECIAL SILENCERS was directed by action specialist Arizal, who went on to helm BERGOLA IJO (the forth entry in the "Jaka Sembung" series, 1983) and the amazing, jaw-dropping action spectacle THE STABILIZER (1984), starring the one and only Peter O'Brian!
SPECIAL SILENCERS has got quite a reputation in trash movie fandom, despite the fact that it wasn't released in many countries. In fact the Dutch video release on the Delta Video label is the only one I can think of now, outside of Indonesia of course. Directed by action specialist Arizal (who directed his first feature in 1974), SPECIAL SILENCERS is based on a story by Djair and a screenplay by Deddy Armand. While it can't deny the fact that it is an Indonesian movie Djair and Armand have spiced it up with a few elements from well-known American and Asian films. Things bursting spectacularly and gorily out of bellies reminds one immediately on Ridley Scott's ALIEN (1979). There's a sequence involving a truck that seems to be lifted from RAIDERS OF THE LOST ARK (1981). And, last but certainly not least, the many kung fu fights took its inspiration from 1970s Easterns starring Bruce Lee and Jackie Chan. The end result is… well… different. And weird.
Screenshots:
Download: