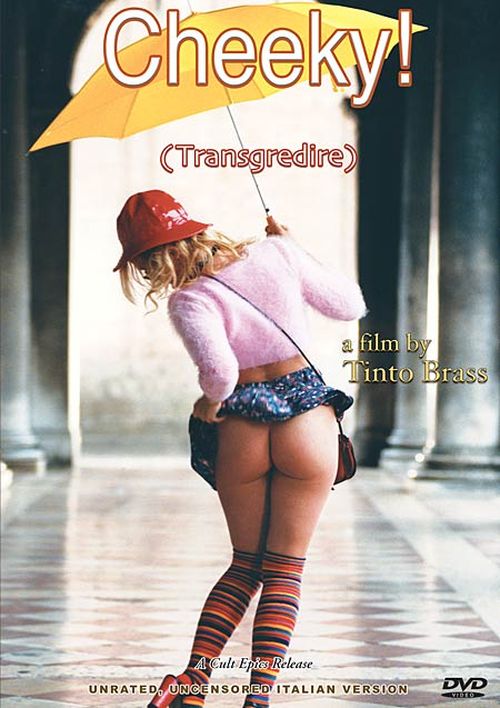 Year: 2000
Duration: 01:26:44
Directed by: Tinto Brass
Actors: Yuliya Mayarchuk, Jarno Berardi, Francesca Nunzi and Max Parodi
Language: Italian | English (English subs)
Country: Italy
Also known as: Cheeky, Cheeky!, Playboys, Transgressing, Transgressions
Description: Generally there are three Directors on behalf of the Tinto Brass (director of Paprika and Monamour movies). The first shot movies very long ago when young blood still raged. The second Tinto Brass shot erotic paintings until the year 2000. And the third Tinto Brass takes pictures so far. Many believe that creativity Tinto Brass standard, but it is not. If you do a little digging around in his films, it is possible to notice three different Directors. In the third stage Director has entered exactly with the movie «Trasgredire». About this film and I wanted to tell you a little bit.
Tinto Brass very often shot explicit pictures, but it was after the movie «Transgedire» he actually went on the rampage. His subsequent films will be, to put it mildly, harsh for erotica. In the movie «Breaking bans» is already obvious, that the Director bothered simply admire the naked bodies, as it was in the movie «Clue». He already wants to look at the actions and movements. And he will we have to show it. Because he's the boss, he is the Director of the film. A little doubting this in the beginning of the movie, one man asks us Who's in charge here? As you know, the answer is obvious. And then pour pornography and erotica. In command of all of this there will be a Ukrainian actress Julia Mayarchuk.
By the way I wanted to say about Yulia that she is very beautiful and appetizing girl. Tinto Brass knows a lot about good priests. Look at Yulia was very helpful and friendly. It is very good that Brass taken with just a light Comedy erotic melodrama, not heavy drama. Just Yulia seems to me, are more suitable light role. Tinto Brass was not inventing the wheel, and showed a stream of history about the human distrust. The main character is constantly jealous of his girlfriend. It seems to him that she was cheating on him with all and it really changes with everyone. The other Directors then there would be a tragedy, but according to the version of Tinto Brass cheating only strengthens feelings and sexual desires. May be he is right. He's in charge here.
In the end, the movie "Transgedire" came out though and cheerful, but still it can't look young people. Well, just in the movie there are so many intimate moments. Although now pornography seized almost the entire Internet, and paintings Tinto Brass many seem absolutely harmless. I put the maximum score of this picture. I very much liked. Masterpiece.
Screenshots:
Download: