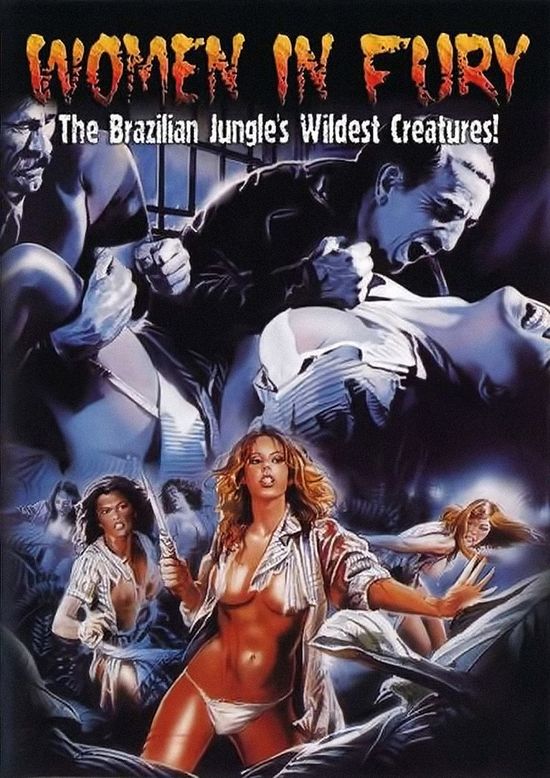 Year: 1985
Duration: 01:29:56
Directed by: Michele Massimo Tarantini
Actors: Suzanne Carvalho, Gloria Cristal, Henry Pagnoncelli, Zeni Pereira
Language: English
Country: Italy | Brazil
Also known as: Femmine in fuga, Women's Penitentiary 5, Jailbreakin' Women, Femmes en cage,
Description: A pretty young woman, Angela Duvall saving her brother, took over the murder of the local drug lord, and was sentenced to 18 years in prison. Her noble act, however, did not save the life of her brother (who soon killed himself), but has subjected herself to mortal danger, because in her cell she was tried to "remove" as a dangerous witness. Realizing that in  the "slammer" she won't survive, during a spontaneous erupted rebellion,  Angela along with other inmates committing a daring escape, unaware that the case had been reviewed and that a court order was issued for her release …
Review: Covering the brother who killed local narkoborona, Angela Dyuval (Susan Carvalho) takes the blame, and is serving time in a women's prison. Angela because of those "below the water softer grass", then it is subject to constant attacks by inmates. Constant series of beatings and humiliations alternates attempts to kill Angela. Yes there is, it catches the eye of people who work on the late narkoborona. Life in prison is not a Brazilian sugar, and now guard with lesbian tendencies … by all means the girl must flee at the first opportunity. Such a case is tucked in the middle of the movie and the crowd of prisoners runs aimlessly: the jungle with machine guns at the ready, simultaneously firing from the military.
Susan Carvalho daughter Lia Farel, a local actress from Brazil. Track record of the first small: a couple of roles in movies + a few early 80's TV series. It plays as good as the looks and because I think that most of the scenes with her shot, or on the first take, or actress just devoid of any facial characteristic actors. In "Massacre in Dinosaur Valley" (the first movie with Susan), it is often overplayed, here, on the contrary is obtained. As written on imdb, in 1989, Susan began racing career in Brazilian Formula 3 and even won a few decent races. So press on the pedal it does best.
And a little bit about the action scenes. Escape and shooting at live targets shot very high quality, look nice. The second half of the film constantly pop machines, and when no longer pop, the girls decide to conflict with each other with their fists. On the special effects are not saved, but not spent, too, I think. The result had been a pretty good WIP, but with poor performance of the actors.
Screenshots:
Download: