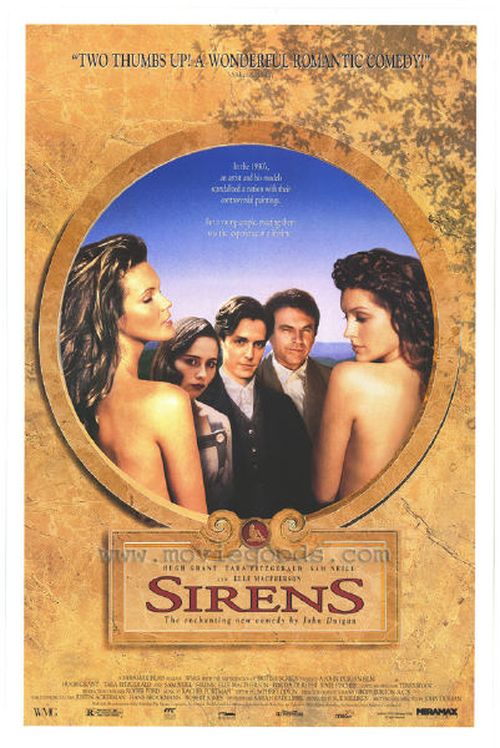 Year: 1993
Duration: 01:00:00
Directed by: John Duigan
Actors: Hugh Grant, Tara Fitzgerald, Sam Neill, Elle Macpherson, Portia de Rossi and Kate Fischer
Language: English
Country: Australia | UK
Also known as: Sirenas, Sirènes, Sirene, Verführung der Sirenen
Description: Sirens – it's Sheila, Judd and Pru – three stunning beauty Artist's Model, which are posing for avant – garde artist in his remote harbor.
When the young priest and his wife come to the artist in order to put him on the right path and convince not to put "indecent" paintings for the exhibition, they fall into temptation and a hotbed of themselves entangled in a passionate atmosphere of sexual sin, shocking and seductive them.
Candid and provocative fantasy scenes added a lot of nice twists in this exciting romantic comedy-melodrama, which has earned popularity as the audience and the critics.
Review: Very funny film for visual gourmets, clearly showing the apparent superiority of women over men, domination, pledged nature. For example the Australian. Mother Earth gives women the power which man comprehend not able to, he can only choose to obey her, or resist, depriving themselves of everything that can make the happiness of life.
The priest and his wife are in the house of the artist, explicitly feminist and human the most advanced minds of that time, as in a trap because of their conception of life will experience a very serious test. Art as the temple of love, the temple of love, as a place from where you can reach only having changed…
Loved how easily and naturally Director deal with religion and its negative impact on the psyche and human life, presenting the most compelling argument, first of all youth, beauty, vitality, seasoned with a pinch of irony and even ridicule. In General, a complete undermining of the foundations, debauchery and eroticism, before which it is impossible to resist. And is it worth it?
Screenshots:
Download: