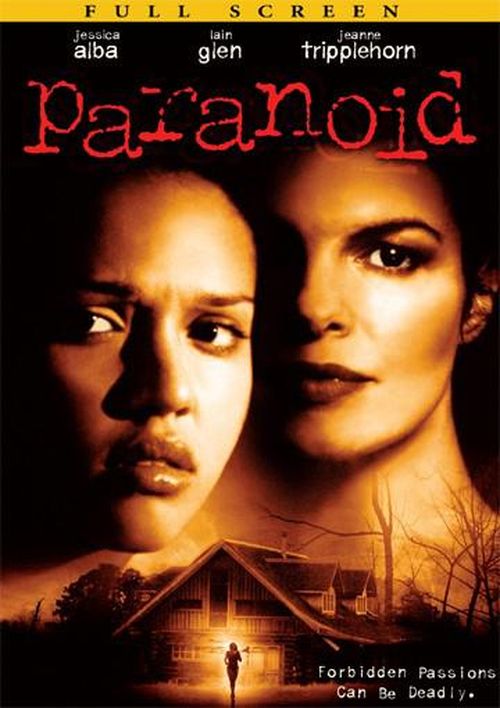 Year: 2000

Duration: 01:29:34
Directed by: John Duigan
Actors: Jessica Alba, Iain Glen, Jeanne Tripplehorn
Language: English
Country: UK
Also known as: Paranoïd, Paranoia, Paranoid – 48 Stunden in seiner Gewalt, A Casa do Mal
Description: This film took a look just because of the wild interest in earlier works of a famous actress. And what do we see ?
Under the rather impressive title "Paranoid" , I was expecting to see a good thriller that would be kept in suspense until the very end. Beginning of the film is entirely justified my expectations : here you and a stranger pervert systematically phoning our heroine and while not saying a word, and then kneading the average formulaic thrillers , the couple goes to the weekend at some abandoned hotel , and a strange little family living in it – forever -drinking wife , a former rock musician from the first frame conspicuous , his brother and his cockroaches in my head , and their daughter – mute girl (some will recognize it Misha Barton ) , which only plays table tennis with itself.
Then it all my hopes of interesting films are beginning to crumble. All the villains are revealed immediately (even our mysterious stranger ) , the whole affair begins to slowly fade away , grew into a kind of drama that looks very sluggish. At the end of isolation becomes very predictable and not at all interesting. As the saying goes , " started for the health , well done … "
I think to even say a few words about the actress for which I started watching this "creation" . There is no doubt in the picture looks like it 's just amazing , the game , though not at a high level , much better than some of her later works .
Generally speaking, I do not advise to watch , unless you're a big fan of Jessica Alba (Venus Rising).
Review: An interesting thriller, but mostly it's a detective. The plot of the film in its own original, although its development is not enough intrigue, the lack of which makes it a bit boring and overplayed. The main advantage of this picture – it looks Jessica Alba, who pushed her acting game on the back burner. But it's fair to say that she knows how to play. In general, normal detective who can see once, then shot in the style of today's youth thrillers.
Screenshots:
Download: