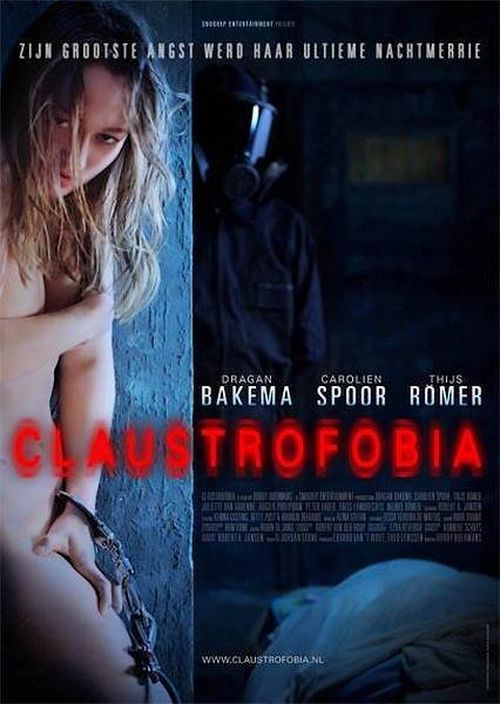 Year: 2011

Duration: 01:30:12
Directed by: Bobby Boermans
Actors: Carolien Spoor, Dragan Bakema, Thijs Römer
Language: Dutch | English Sub-Titles

Country: Netherlands
Also known as: 
Description of Claustrofobia film:When eve woke up, found herself confined to bed, it is unknown at what point she began to be afraid, because her fears become reality…
Review: As usual in movies about bloodthirsty maniac , shifted on his head Surgeons perverts come across a stubborn victim who is haunted forever . Movie script well too mediocre secondary and predictable. Shot in the same 2011 painting Almodovar ' Skin I Live In , "in which the main character knew what he was doing , what objectives pursued , for which he had avenged , was pronounced tragedy desperate father who lost his wife and daughter. In the absurd " Human centipede " were justified kidnapping evil surgeon , who wanted to create a centipede of people.
You can list dozens of paintings concerned about the unbalanced and scary uncles kidnappers , vengeful , or wanting to meet their unspeakable desires.
But here understand the motives behind the villain . The viewer will have to think out yourself what is the essence of revenge , because you can immediately put an end to this once and for all by killing the offender . We can assume that he still had feelings for the old childhood friend whom he loved , because he could not let her go to another world.
Throughout the film "Claustrofobia" will continuously interfere uninvited guests are not offered the villain complete their dirty work , but giving the student attempts to escape from captivity into the wild.
Screenshots:
Download: