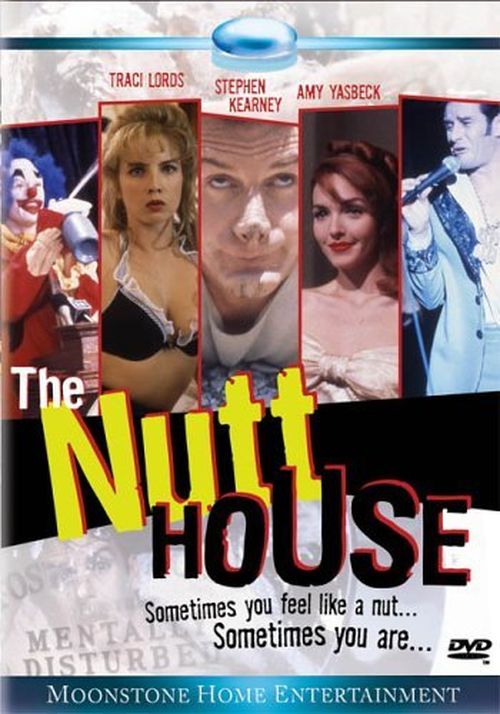 Year: 1992
Duration: 01:34:19
Directed by: Adam Rifkin, Scott Spiegel (uncredited)
Actors: Stephen Kearney, Amy Yasbeck, Robert Trebor
Language: English
Country: USA
Also known as: The Nutty Nut (Australia)
Description: Philbert and Nathan are born identical twins which is too much for their mother to handle.
So she leaves the more difficult one at the door steps of a mental institution bt mistake.
After 36 years, Nathan escapes the institution and fate takes him to meet his brother.
Philbert takes advantage of the situation for a change of identity that will allow him to meet his mistress without interference, but the situation goes so far that Philbert is taken to the institution and Nathan becomes the senator.
Chaos erupts from that point on.
 "The hysterical antics of Nathan Nut "The Nutty Nut" who finally escapes from the mental hospital where he was institutionalized 36 years ago when his mother Hazel Nut accidentally abandoned him on the doorstep! He is reunited with his brother, Philbert Nut, and in a hilarious twist of fate switches places with his brother who is sent "back" to the institution."
Review: At first glance it is clear that the filmmakers really wanted to create in the spirit of parody Zucker . However , we face the truth , spirit Zucker here and there is no trace , well, no comparison this film does not go with the masterpieces of famous brothers . We have a diligent and very mediocre comedy parody made ​​with strained gags and huge logical inconsistencies .
The film is filled parody traditional cliches, but here they look very pale and most jokes flies just wasted . Besides, the film is very bad installation on which Sarazen seen it malobyudzhetka . I can not say that the film is just too boring , but every witty joke there are two completely stupid and unnecessary moment.
Comedy could get a very good , if very many really funny moments were connected good script and delivered normally . The potential of splitting threads ( and here – razdesyatireniya ) huge personality . It's got a very meager. Instead of at least imitate Zucker , the creators had a hideous massacre cakes – the scene in which each of them should throw out the movie . Is not it clear that the cake in the face – it's not funny for a long time , especially if the scene throwing cakes lasts 15 minutes !
However, not all that bad. The actors play very carefully . A little-known Stephen Kearney clumsily tries to portray himself Jim Carrey , however, he immediately plays for more than 10 leading roles – and does it pretty funny. Well, when the screen appears Amy Yasbeck and woman – servant , starting just wonders. Both actresses are so beautiful , charming and sexy , what about the comedy itself inevitably forget . Undoubtedly, these two girls made ​​the film much better than it is.
In general, the failed chip. There are two Zucker on the ground and not be a third ! Of course, some moments are super and you can see, but in general – weak.
Screenshots:
Download: