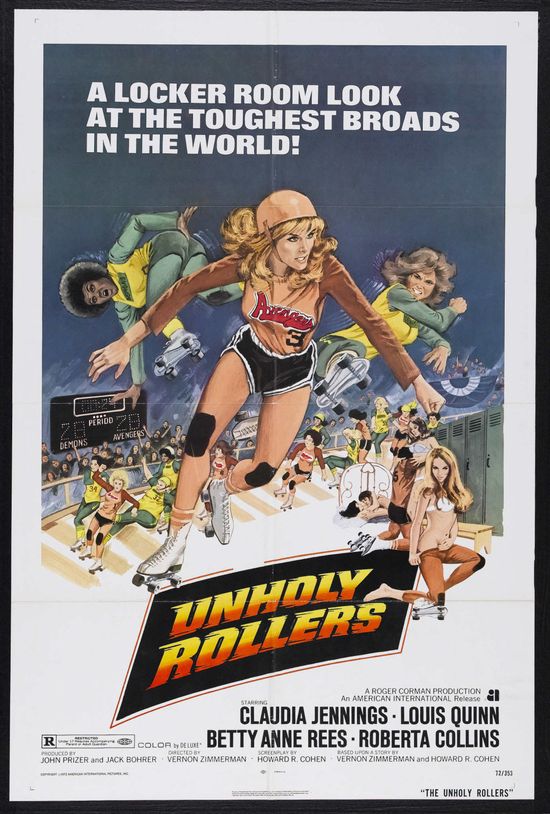 Year: 1972
Duration: 01:28:00
Directed by: Vernon Zimmerman
Actors: Claudia Jennings, Louis Quinn, Betty Anne Rees
Language: English
Country: USA
Also known as: I teleftaia strofi tou thanatou, La carrera salvaje, Leader of the Pack, Rollerfieber, Una ragazza violenta
Description: Another rare Claudia Jennings favorite. Unholy Rollers" is even better than "Gator Bait" & "The Great Texas Dynamite Chase".  I've seen a few requests for this one, so here it is.  Please leave more comments and enjoy the flick.
Review of Unholy Rollers movie: This is not football or hockey, but there is almost cosmic speed. This is not karate and boxing, but here are fighting so that the bones crack. Roller derby, which is contrary to the logic of reason was purely women's sport does not relax for a minute. And Karen Walker is pivotal, the one that is always ahead. She is not afraid of no blockers or bouncers – Rod is the one that brings the team win.
The film "Unholy Rollers" – a rare picture of the almost unknown in our sport. It was filmed in the genre of sports reporting, constant voice-over commentator gives the film a documentary. Fighters from ever competing teams Avengers and Demons perceive almost as legendary athletes.
Claudia Jennings (she also played in Single Girls), once the star of the magazine Playboy, shows a picture of outstanding dramatic talent. Gives credibility and the fact that the actress had a roller skate in roller derby have to travel on an inclined track, every second getting punches and kicks enemies.
Time hippies. The air was still breathes freedom of Woodstock. Unkempt locks, make-up minimum. The image created by Jennings, is the nature of the spirit of feminist sentiment of the time. It is not just the right to vote, the freedom to be as harsh, untamed and powerful, like a man. Karen Walker – cooler than cool Walker, she is able to knock down seven foot big man, she shoots with both hands and drives a car like Easy Rider. Unfortunately, the scene in which she carries Jennings in the dust of the Las Vegas Strip, recalls the tragic fate of the actress, who died in a car accident seven years later.
This film is not about team spirit. It is about individuality in sport and in life. He's alone. The picture produced by Roger Corman, surely inspired the creators of the Future Sport with Snipes. Another interesting fact is that this is a debut film by Martin Scorsese in the modest role of editor.
For speed and pressure for goosebumps, for rigidity and integrity
Screenshots:
Download: