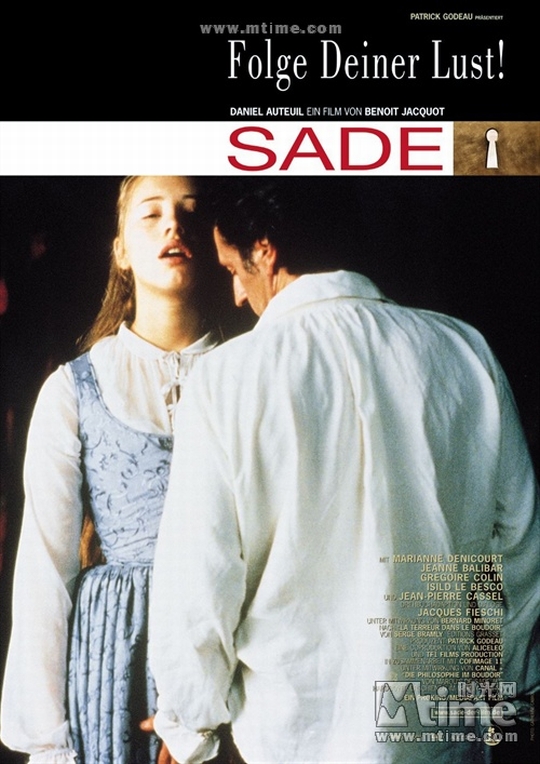 Year: 2000
Duration: 01:33:48
Directed by: Benoît Jacquot
Actors: Daniel Auteuil, Marianne Denicourt, Jeanne Balibar
Language: French (English sub)
Country: France
Also known as: Hakkinbon,Markisios de Sade
Description: On the key figure of the XX century – terrible and beautiful – century, the great libertine, philosopher and writer we know, not all … about Marquis de Sade
1794. Bloody terror. But "the most immoral man" was transferred from prison to the castle, where the old French aristocracy bought a reprieve from the guillotine. But Marquis (Daniel Auteuil who also starred in Strange Crime movie) has no money. But he has a faithful lover, and a young fan …
Review: France 1793. The Great French Revolution destroyed the monarchy. 16 King Louis and Queen Marie Antoinette were executed. Republic was formed.
Four years earlier, was demolished Bastille – a symbol of royal power. The new owners of the country's prisoners released from there. There were six. Among them was already known to the world the Marquis de Sade.
Jaded and spoiled Marquis starts with youth to promote their own philosophy of sexual gratification through violence and cruelty. Let it caused a negative reaction in society, many have followed this theory.
After being released revolution, exiled to a remote estate, and there he finds no rest. Seeing a young girl in love with him, he decides – it is necessary to give her sexual freedom. But if she wants it? She's afraid of what is her younger years, which should be the most wonderful, held under the motto scary act – the revolution. Being unconsciously in his office, she obeys him. He's happy – one more person in the world has known love through violence. In the truest sense of the word. He did not learn to love her, he tried to teach her how to have fun.
It is worth asking the question – what will happen to this girl later? Two ways. Either she'll forget it and will live a normal life, or it will priverzhenitsey theory of sadism. I would like to believe the best, but knowing the moral character of the era of hope is not enough.
Nature did not spare humanity. For the bloodshed she punished the people worst person who could make the world more violent – Sade.
As a result, he did not commit the crime, he provoked a lot of murders, abuse and violence.
In this brilliant historical drama of Benoît Jacquot – School of Flesh and Single Girl -, fierce and gentle at the same time, as are the works of de Sade, played by the wonderful French actors: Daniel Auteuil ("Widow of Saint-Pierre," "Girl on the Bridge", "Queen Margot") and Marianne Denikur ("The man of my life").
France, the end of XVIII century. After much wandering around the prison Marquis de Sade, the aristocrat-turned-seducer, a victim of Puritan terror of Robespierre, the guest house is in a gated Pikpyus where luxurious society of nobles and swindlers saved from death, emptying their pockets. Here he meets a young and innocent Emily, immediately deciding to teach her candid life lessons and love. Without losing a sense of humor and bravado, this "immoral teacher" puts the walls Pikpyusa his new play, trying to distract her student and her entourage from the cold brilliance guillotine, which administers its ruthlessly cruel court. But their modest paradise has turned into hell, and soon the wind will blow the history of freedom-loving libertine toward eternity and immortality …
Screenshots:
Download: