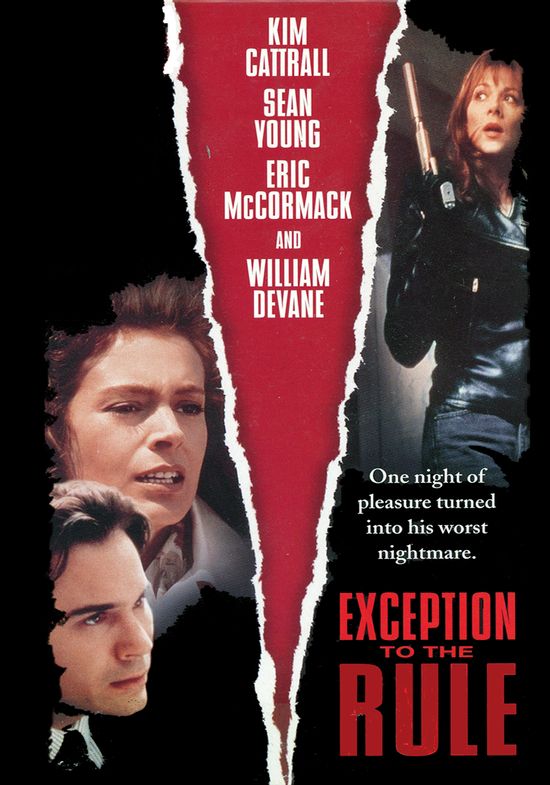 Year: 1997
Duration: 01:39:11
Directed by: David Winning

Actors: Sean Young, Kim Cattrall, Eric McCormack

Language: English
Country: Canada/ Germany/USA
Also known as: Excepção à Regra, Nach gefährlichen Regeln, Uno sporco ricatto, Juego peligroso

Description: A real gem of film and a guilty pleasure from the late 90's, EXCEPTION TO THE RULE is a borderline erotic thriller (though it's just not sleazy enough to be a truly "erotic" thriller, it's more a thriller with a dash of skin and bare bosoms) with a pleasantly engaging storyline, tight pacing, plot twists galore, subdued yet effective performances and a balls out finale.
Think FATAL ATTRACTION if Glen Close has been a sociopathic jewel theif and you'll be in the right ballpark.  Kim Cattrall is a great mastermind/villain – a nice departure from her usual roles – and Sean Young, William Devine are their usual wonderful selves, and Eric McCormack who I'm not familiar with but he's perfect as the husband, awkwardly falling into the part of a "playah" and not really handling either the affair or the twisted consequences that come after terribly well.
Of bed seductive stranger cheating husband caught in a net of blackmail. Once hooked on fraud, the hero is feverishly trying to get out, and plunges into the abyss of scams and dangerous games … blackmail through the keyhole.
Screenshots:
Download: