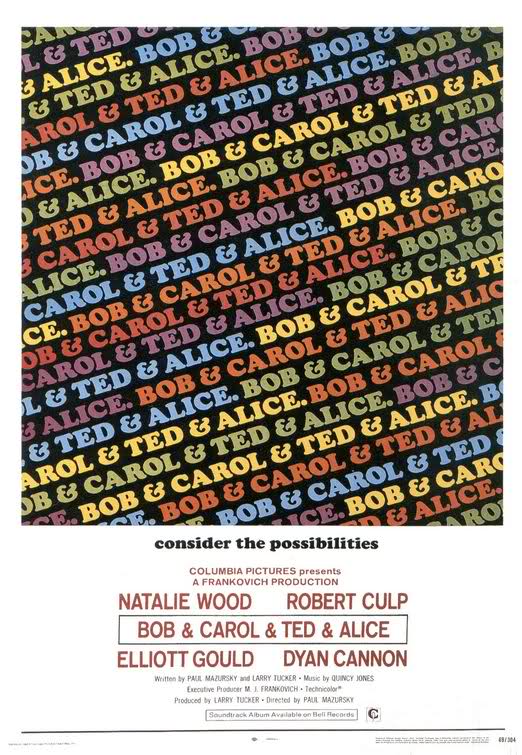 Year: 1969
Duration: 01:45:22
Directed by: Paul Mazursky
Actors: Natalie Wood, Elliott Gould, Dyan Cannon and Robert Culp
Language: English
Country: USA
Also known as: Bob, Carol, Ted y Alice, Bob et Carole et Ted et Alice, Bob, Carol, Ted i Alice, Bob & Caroline & Ted & Alice
Description: Bob and Carol Sanders (Natalie Wood – Rebel Without a Cause) – rather unusual couple from California, who like groupthink without complexes. Eager to diversify their sexual lives, they decide to commit a sexual experiment, having entered this into intimate contact with another couple. Ted and Alice Henderson more traditional couple who always listens with interest stories about provocative behaviour of their best friends Bob and Carol, until not decide to invite them into his bed.
Review: Original comedy to joke about sexual experiments, marital infidelities and conservative views on privacy. This is a story about the extravagant couple Bob and Carol, who for a variety of sex change each other. And both believe that this is normal. However, their friends Ted and Alice do not understand this. But they soon fall under their bad influence, which leads to all four orgy. She helped them to verify the truth of his feelings for the second half, and understand that no one can replace her. People are afraid of betrayal, because perceive a simple affair of deep feelings.
Bob and Carol are changing each other and do not hide it. Treason help them to understand the authenticity of their love for each other that makes their marriage stronger. It is worth noting that the film is very bold for its time. It contains several explicit scenes, which, however, do not make it vulgar. Despite the lack of funny moments it was very easy, but not without a deep sense.
The depth of the film, I realized only after viewing. Natalie Wood in the role of Carol Elliott Gould dwarfs, Robert Culp and Diane Cannon, playing, respectively, Ted, Bob and Alice. Her character is the most modest and charming. Half of the film rests on her.
Screenshots:
Download: