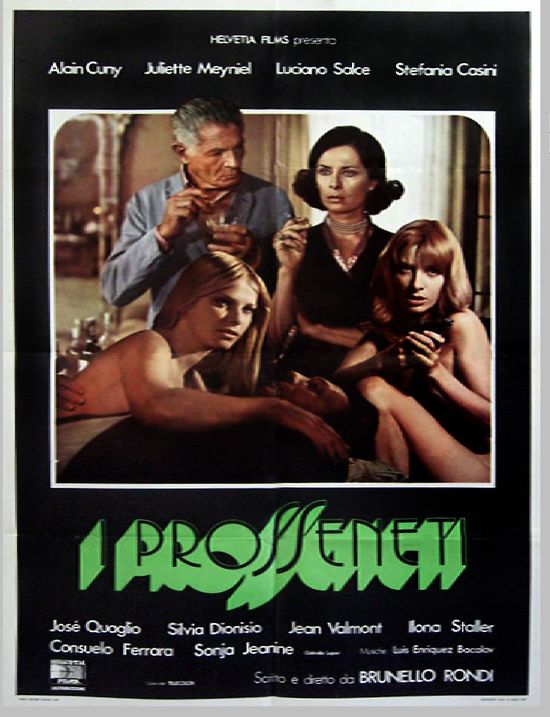 Year: 1976
Duration: 1:30:30
Directed by: Brunello Rondi
Actors: Alain Cuny, Juliette Mayniel, Luciano Salce
Language: Italian (English Subtitles)
Country: Italy
Also known as: I prosseneti, The Panderers
Description: Count David and his wife, Gilda, use their villa as a brothel for eccentric wealthy individuals. Among the guests of the house include a former mercenary who takes pleasure in psychologically and physically torturing Odile; a theater director who enjoys roleplaying with Silvia; and an ambassador who is haunted by his former lover is seduced by Lyl. Meanwhile, Gilda's secretary and lackies lure naive country bumpkin, Linda, to the estate where she is raped and forced into prostitution. The film ends with a formal party where Count David and his guests lick champagne and  pudding off biker Jule's naked body.
"Count David is an avid cocktail that aspires to publish a treatise on mixtures of alcohol he created. With his wife Gilda has used their villa at home appointment for affluent vices unusual, so recover from the economic difficulties in the past.
Among the guests of the house include: a former mercenary who psychologically tormenting the girl he meant, telling the torture suffered by her mother; a theater director who gets through a staging exotic; a general manager of television who rapes a girl enrolled in the house against her will; a man who makes love in front of a video in which it appears his ex-girlfriend.
At the conclusion of the two give a party where suddenly appears Jule, a girl on a motorcycle, which offers its guests nudity.
The film, released in Italian cinemas from April 28, 1976, was broadcast on television very rarely and is never released on home video."
Screenshots:
Download: