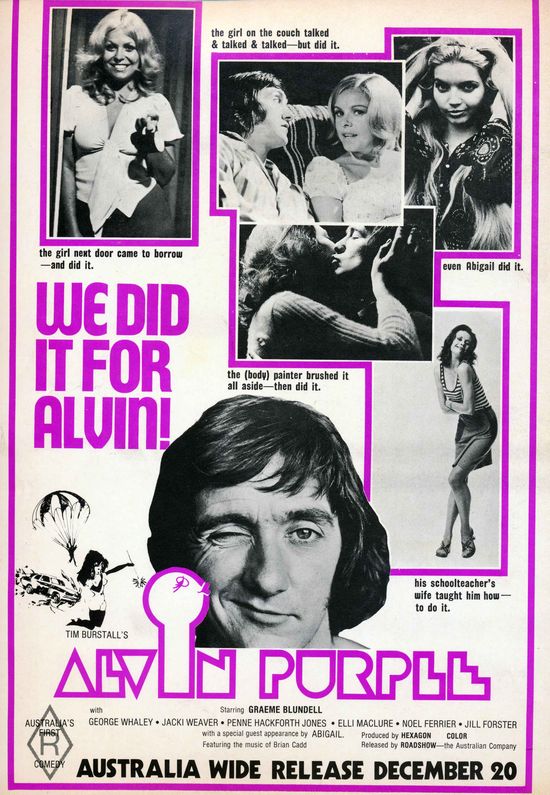 Year: 1973
Duration: 1:32:48
Directed by:  Tim Burstall 
Actors:  Graeme Blundell, Abigail, Lynette Curran 
Language: English
Country: Australia
Also known as: Alvin Purple, Tim Burstall's Alvin Purple, Alvin el irresistible, Søgang i vandsengen, Ahkera Alvin, seksikauppias, Flitiga Alvin, försäljare i sex, O poniros Alvin kai ta koritsia tou, O Devasso Renitente, The Sex Therapist

Description: A tremendous film that is an excellent example of the Ocker films that characterized Australian cinema in the early 70s. Alvin Purple is not a good looking man, in fact you could say that he is pretty ugly. Nor is he funny or a man of great character in any sense. But somehow, for reasons unknown, he is irresistible to women. He attracts women wherever he goes: on the bus, in the park, even just walking down the street.
The film contains a significant amount of sex and could be classified as a soft porn movie, but the sex is not for erotic purposes, but for comedic purpose as the audience cannot stop laughing as this awkward man who seems to know nothing about women has sex more times in a week than most people do in a lifetime.
But there is more to the movie than just comedic sex, the film is also a character piece as it shows the alienation that Alvin feels as he struggles to make his way through life. The multitude of sex that Alvin engages in contrasts his life of total isolation, as he tries to find someone that he can truly connect with.
This film is truly an original and a must for students of film. Australian Cinema has an amazing history and the Ocker Films and Alvin Purple are an instrumental part of it.
Screenshots
Download