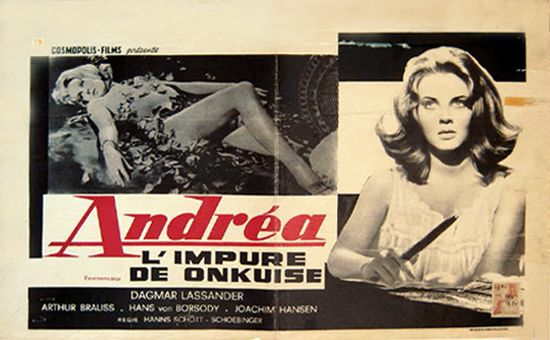 Year: 1968
Duration: 01:23:20
Directed by: Hans Schott-Schöbinger
Actors: Dagmar Lassander, Ralph Clemente, Arthur Brauss
Language: German
Country: West Germany
Also known as: Andrea – Wie ein Blatt auf nackter Haut, A Woman's Urge, The Nympho, Ninfomanía, Andrée ou Andréa, Andrée – l'esasperazione del desiderio nell'amore femminile,Andrea, die kleine Nymphomanin
Description: 
Now I 've watched the film again and I am still of the opinion that you are dealing with a gem of German cinema. This is exactly the kind of film that perfectly manages to bridge the gap between art and exploitation .
I think I have not seen a film in which Dagmar Lassander so the focus is on ( including many revealing scenes). And Herbert Fux plays his supporting role as a macho gangster again perfect.
I want to plot only give a rough outline : Andrea is a young woman who lives pretty lonely on a large estate at every opportunity they can to affairs , and at some point there is also still an escaped convict in the game and the end emphasizes again the mystical and mysterious side of the film .
But the really interesting especially the production . Because the honest way that adheres to some German films from this period gives way to a style that might not happen strongly reminds us of the Italian cinema . The autumnal images and the magnificent facilities are already a feast for the eyes , to the camera captures several interesting perspectives and plays of color and even the score by Hans Hammerschmidt is a real masterpiece. Very atmospheric, very voluptuous , very nice!
As I said, especially for fans of Dagmar Lassander (Werewolf Woman) the film is extremely worthwhile , but he just even other qualities.
When it comes to German cult cinema, most people always talk of Rolf Olsen. It is time to put the focus sometimes on Hans Schott – Schöbinger – the man has shot some great movies!
Maybe that remember the label , too someday . I've already suggested from time to time in various forums the movies , but so far nothing has been done . Could of course also with legal difficulties related , but I tend to feel the interest is not there.
Rarely has the title of " underrated " so aptly as in this case ! I think would be an ideal film for labels such as camera obscura , or subculture.
Screenshots:
Download: