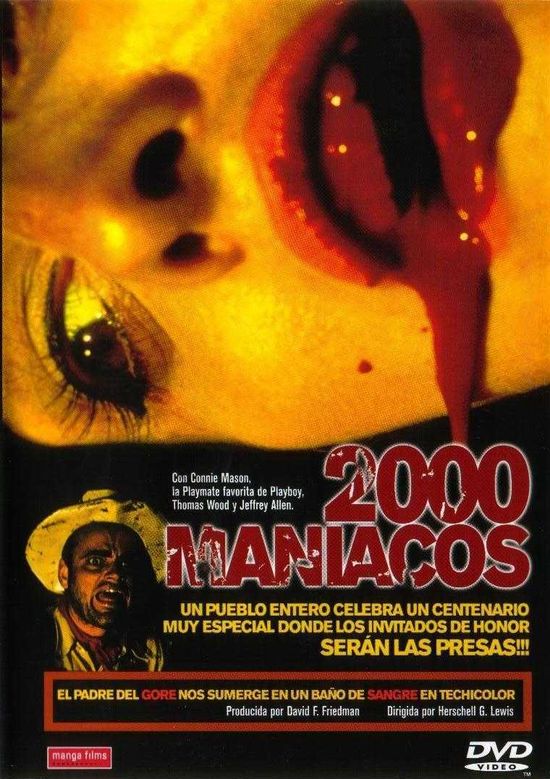 Year: 1964
Duration: 01:23:46
Directed by: Herschell Gordon Lewis
Actors:  Connie Mason, William Kerwin, Jeffrey Allen 
Language: English
Country: USA
Also known as: 2,000 Maniacs, 2000 maníacos, 2000 maniaques, Deux mille maniaques, 2000 Maniaci, 2000 Maniacs
Description: Inhabitants of a small town Wally pleasant entice to itself passing motorists. Guests must become the main actors at the festival, held in honour of the anniversary of the civil war. Happy shouts of the crowd their cause to the most refined ways.
Review: The fact that this movie is for his age is very naturalistic cruel and revealing in many scenes. And not only in the demonstration of explicit violence without the possibility of recovery with lots of bright spilled blood and severed limbs close-up, but the situation itself without any clearance compassion – if the victim is surrounded by a crowd of townspeople, then down the drain. By the same director-screenwriter Herschell Gordon Lewis (Gore Gore Girls and Blood Feast) clearly became one of the pioneers of cinema straight cruel, sculpting their simple ideas laid down in the course of a planned "meat grinder" innocent characters. Guess who's following in the 80th created a plain brutal horror, as a child growing up in this movie: the apparent hopelessness survive, alternately twisted savage blood-red death, a drop of compassion, "empty" dialogues in the gaps between the barbaric ways of taking a life in screen characters .
It is also necessary to note Lewis for another unusual for his age approach in the transfer creepy story with a contrasting background music. It now packs out the horrors (including a remake of "Maniac 2001" directed by Tim Sullivan) from continuing raschelenenkoy and buckets of fake blood under the jokes, smiles, as if making fun of rudeness frame with its immoral implications. And then the 64th year, where naturalistic ax chop off screaming girl's hand under the shoulder, and even deride a foolish song on the banjo. And so are all similar footage.
With regards to the plot, it is curious – a city of killers, sadists, cannibals and extremely nasty people with annoying false smiles that all shared indestructible mass produce seek out the sickest fantasies for the murders of innocent guests. It is involuntarily recalls a kind of "Hostel" with the possibilities of visual effects the mid-60s with the terrifying inhuman attractions and amusements of death, just for the sake of only one death.
Screenshots:
Download: