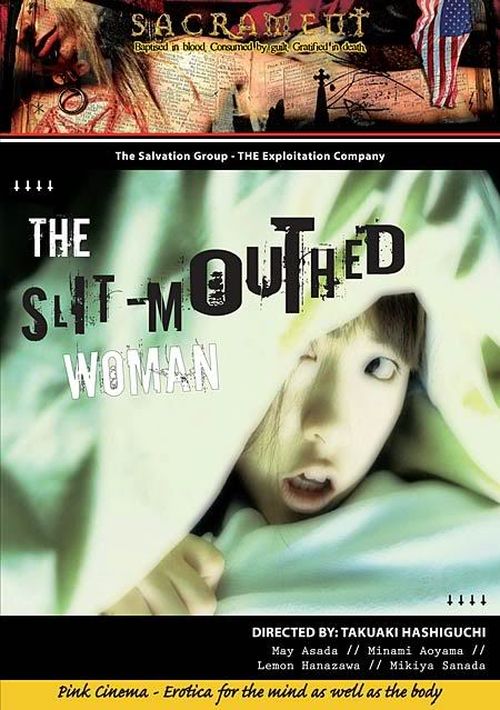 Year: 2005

Duration: 01:03:11
Directed by: Takaaki Hashiguchi
Actors: Minami Aoyama, Mayu Asada, Lemon Hanazawa
Language: Japanese | English Subtitles

Country: Japan
Also known as: Kuchisake, Kannô byôtô: nureta akai kuchibiru
Description: This little gem I picked up because it looked like your typical J-horror film, but with a little soft core sex thrown in for good measure. Not to be confused with the 2007 film of the same name. (USA title "Carved") As for a horror movie, it falls short, but with some good sex scenes and only a 63 minute running time, The Slit Mouthed Woman is a nice view.
Japanese with English Subtitles included.
-Review from xploitedcinema.com-
A young couple enter a hospital after rumors that a spirit or demon known as the 'slit –mouthed woman' had been seen. Once inside they are possessed by an overwhelming desire to have sex and sneak off into an empty room to satiate their lusts.
Then out of the darkness a perverse and disfigured woman appears to them and in the morning the young woman is found dead in the couples apartment. The Slit-Mouthed Woman is an unusual example of Pink Cinema in that it mixes horror with eroticism in a way that is both unsettling and genuinely original.
Review: An employee of a fashion magazine is assigned to write an article about the urban horror story – a ghost mutilated women, killing people on the night streets. Journalistic investigation leads her to an abandoned building plastic surgery clinics, where it is said could contain a girl who became the prototype for this spooky legends.
Screenshots:
Download: