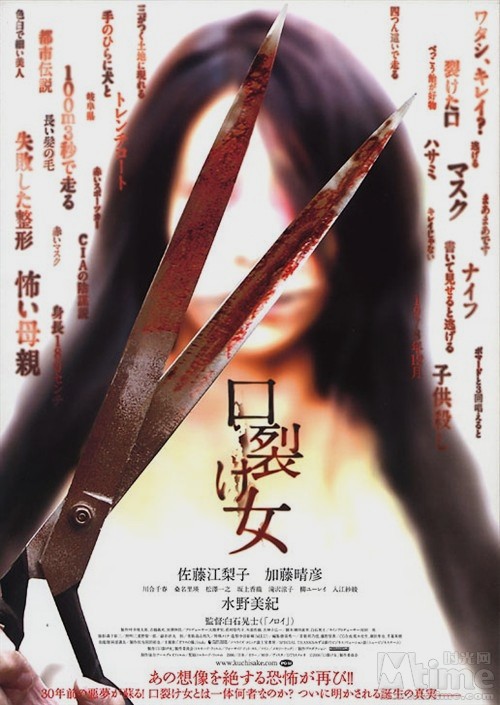 Year: 2007

Duration: 01:30:19
Directed by: Kôji Shiraishi
Actors: Eriko Satô, Haruhiko Katô, Chiharu Kawai
Language: Japanese | English Subtitles
Country: Japan
Also known as: Kuchisake-onna, Carved, A Slit-Mouthed Woman
Description: One after the other in a small town begin to disappear children. Just then pop up rumors about a woman with slit mouth, which inspire fear in this city for more than thirty years ago. Two teachers start their own investigation of these mysterious rumors hoping to find missing children.
Review: Director of the film "The Slit-Mouthed Woman» (Kuchisake-onna) Cauchy Shiraishi not waste time and decided not to prolong the story – already in the beginning of the film the children begin to disappear . Between the kids and the riot of the spirit are two teachers of the local primary school – Mr. Yamashita and Matsuzaki . The number of missing children is increasing, and the mystery of the spirit is still not solved …
The film is , in principle, is not bad, I liked it. Though I was waiting for more blood and terror, but as the film malobyudzheten and mostly starring involved adolescents , respectively, and it is designed for teenagers , so particularly scary scenes almost there.
But do not relax for a few moments of truth COLD blood and stir hair.
It's great to have made this very Auntie to cut open his mouth to get a really high quality and scary.
The ending is uncertain, but the sequel will not watch , because the second part was shooting another film director, and this is known as a good does not end there .
Screenshots:
Download:
Carved: The Slit-Mouthed Woman 2007