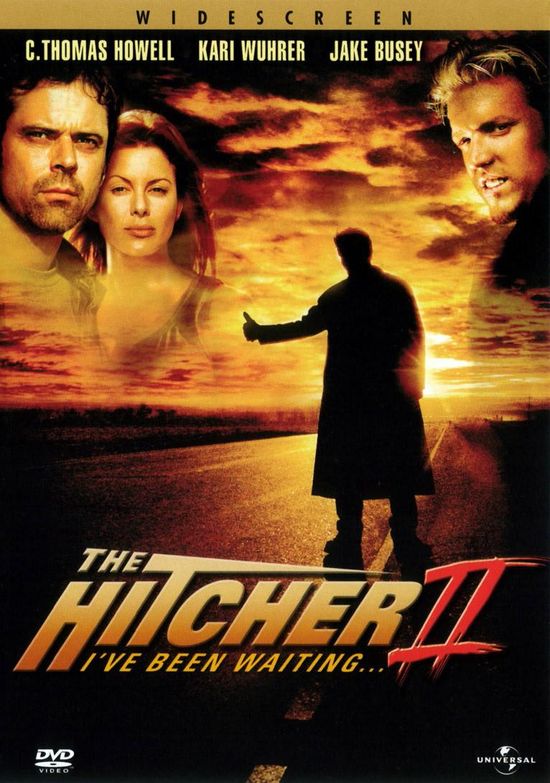 Year: 2003
Duration: 01:32:15
Directed by: Louis Morneau
Actors: Jake Busey, Kari Wuhrer, C. Thomas Howell and Shaun Johnston
Language: English
Country: USA
Also known as: Hitcher Returns – Die Rückkehr des Highwaykillers, The Hitcher 2: The Prey, The hitcher II – Retour en enfer…, The hitcher II – Ti stavo aspettando
Description: Arguably the most horrorendous movie in this vein I have ever seen. Although Jake Busey makes almost as good a demented character as dear old dad Gary. Filmed by director of Quake movie. Definitely "The Hitcher 2" is a worthy continuation of the very famous fellow traveler who came out in the 80s.
The plot itself is a logical consequence and staffed the first part, indeed, a certain action-he does not hold. Maniac is as sophisticated in their actions, although on this occasion there are some drawbacks, firstly whether it is possible to call Jack's companion? If the first part, we clearly saw John Ryder as a man hitchhike and alternately cutting the drivers, but this time I would call our anti-hero just a maniac on the road who need that little would have thrown it in this or that place.
By its peculiar atmosphere of this film is like and at times more than on action thriller / horror, lost psychology, a kind of killer, as it is more predictable and does not look weird but just like a butcher in his eyes there is no certain emptiness and quiet of unpredictability.
The cast is quite good, I personally believe that Busey is good in the role of a maniac, but an obvious similarity to the 100 percent Hauer I would not have argued as if the first part and in the presence of both Hauer played a role (and he played it amazing and no such a killer in the film is not in my opinion), Busey seemed maybe not worse, just different, more open to the outside world, it is even able to explain their actions.
Screenshots:
Download: