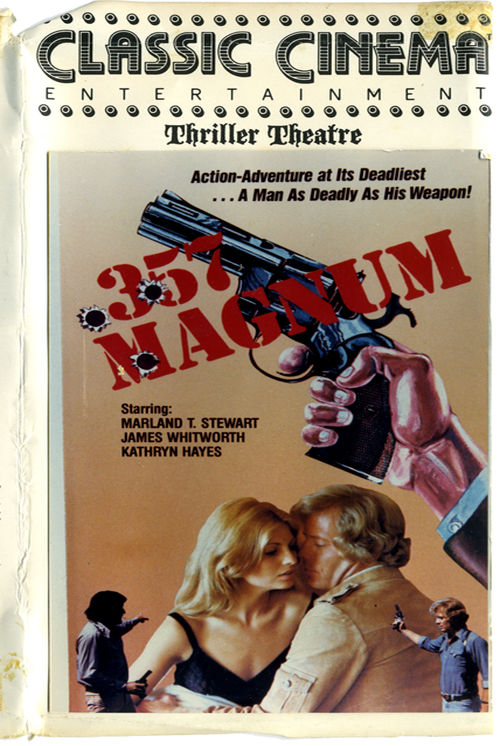 Year: 1977
Duration: 1:09:52
Directed by: Nick Millard

Actors: Michael Flood, Kathryn Hayes, Marland Proctor

Language: English
Country: USA
Also known as: Three-Fifty-Seven Magnum
Description:
Here's what someone at imdb said about .357 Magnum:
Action Film with the quality of a cheap porno flick (without any porn.)
Author: domitype from United States
I saw this film once as the opener to "Blue Collar" – no idea why the theater booked it. Maybe they thought it was "Magnum Force."
Every possible thing that could be wrong with a film is here – bad acting, bad camera, bad sound, bad script, bad props, bad effects, bad fights, bad squibs, bad locations, bad directing, even bad credit roll!
The plot involves a cult of criminal "sort-of ninja warriors" who use .357 Magnum pistols to do crimes and attack other bands of pistol totin' ninja warriors. Some scenes are supposedly shot in Japan, but it is actually San Francisco Chinatown with the film flipped over so they drive on the wrong side of the road. At least they knew that cars actually do that in Japan – probably the only thing they got correct.
As reviews of other Nick Miller [?] productions on IMDb have noted, there is such low quality in every aspect of the film it is hard to actually figure out the plot. Anyway, lots of people get shot (often at close range and suffering multiple ketchup wounds) yet manage to continue to wander through the film, drive sports cars and do other nonsensical things, pretending to be in a movie. Even the "sexy bits" with Go-Go Dancers and strippers seemed like they were just thrown in to the final cut without a thought. [I'm not sure if ol' domitype is mis-remembering, or if he saw a different cut, but there are no go-go dancers or strippers in what's being presented here – millorona.]
When the credits finally rolled (Sound by Bob, Camera by Joe, etc.) the audience was shouting at the screen, throwing empty pop-corn boxes and cups in disgust and demanding their money back. (This was a $1.50 matinée double feature.)
—————————————————————
Here's a excerpt from a review at Bleeding Skull:
By now, the entire world should be predisposed to the anomalous junk-stylings of Nick Millard aka Nick Philips aka My Favorite Dissident. Prolific, hermetic, and emphatic in his quest for onscreen kinks, Millard has spent the last 40 years quietly churning out disconnected trash which few people understand, let alone attempt to understand. In a sense, that's what makes his work so appealing. That, and the fact that none of his films exceed 70 minutes. Like Daniel Johnston's songs and Kenneth Patchen's fictions, Nick's methodology rejects convention and the world-at-large, ensuring an experience which only he (and he alone) can offer. It's special. And privileged. That said, .357 Magnum features a lot of implausible gun handling, an unrelated five minute scene of a leather-clad woman orally pleasuring a vibrator (while an anonymous woman films it), and a cameo from Crazy Fat Ethel aka Crazy Fat Edith herself.
Yes. It's magnificent.
Screenshots
Download