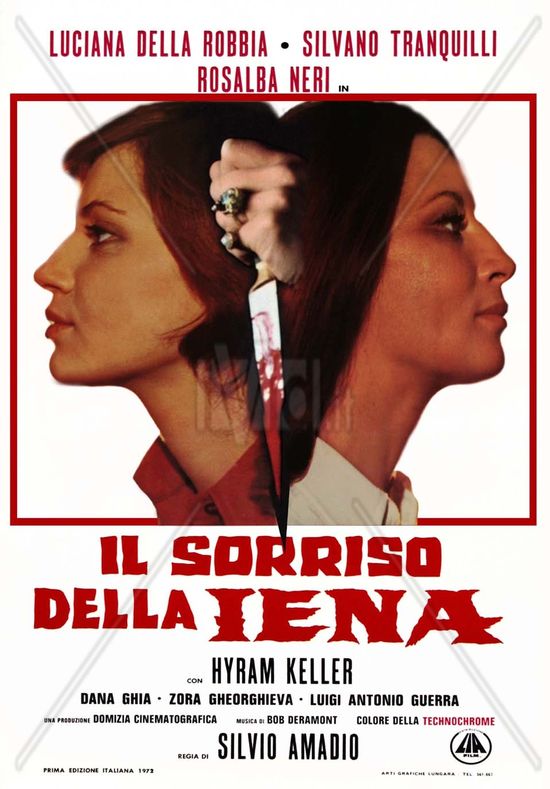 Year: 1972
Duration: 01:25:20
Directed by: Silvio Amadio

Actors: Jenny Tamburi, Silvano Tranquilli, Rosalba Neri
Language: English
Country: Italy

Also known as: Il sorriso della iena (original title); Dödligt förhållande; Hymyile… sinä kuolet!
Description: 
The film is a typical inexpensive Gallo, with a daring plot twists at the end and the lion's share of nudity one of the main characters.
Investigated the murder of a rich old lady Dorothy Emerson. Of course, at first, the conspirators (Nari and Tranquilli) try to avoid such big words as "murder", forcing the rest of the opinion that an elderly woman had committed suicide. Suddenly comes the daughter of the late Nancy. She is young, beautiful and near mind at first glance. Because of this and decided to use the character Rosalba Nari. She got the role of the photographer, who only knew how that show films, Yes to build the insidious plans. Almost a third of the film takes place in photography. To find out who the murderer is and will be work, but what will be the end of the film and what will unfold the finale… it would probably be much more complicated and confusing.
Pros:
– good music, and the main theme is very even nothing.
– the outcome turns the film upside down, as is customary in Gallo.
both ladies (Nari and Tamburi) beautiful, there is something to look at male audience. It is surprising that scenes with nudity Nari almost there (usually she gets to play slutty girls).
Cons:
– the plot sags, the third of the film takes place in fotosesija Nancy.
– separate episodes filmed kulturno. For example, the rescue of the heroine from the water random passers-by. Look and you will realize that so people don't save, and the best actor just splashed in the water.
It seems to me that the film was shot at the same time or after to "In search of pleasure. The story described me film does not Shine with originality, the very formulation of the budget, and the character of Rosalba behaves one-on-one with the character in the picture, which I compare. Both films were on, and the fact that they were directed by one person, I think already and no need to speak.
The film is mediocre, but the fans of Giallo past not pass!
Screenshots:
Download: