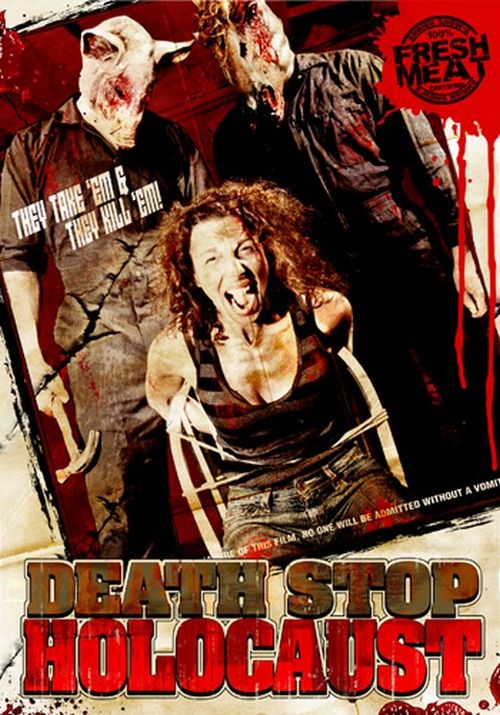 Year: 2009

Duration: 01:19:19
Directed by: Justin Russell
Actors:  Lisa Krenisky, Jenna Fournier, E. Ray Goodwin
Language: English
Country: USA
Also known as: 
Description: Elizabeth was taking his friend to an island where they plan to spend their summer vacation. Vacation is over when three masked sadists opened a hunting season on them.
Review: "Death Stop Holocaust" – the first of the famous film by Justin Russell. Grindhouse is a modern, like the fact that doing Ti West and Joseph Guzman. Even in the abstract to the 2nd film of Russell "Sleeper" the creators wrote – "What Ti West has done with the 70-mi, D. Russell has done a 80-mi."
But it was the second experience, and the first – "Death Stop" – was another. It's not quite stylized, because of an old movie like a timeless story and captions.
The atmosphere felt similarity with early Craven and Hooper, and there is no talent of Russell as stylist, but as a horror director. Meaning of course, he does not put any, but it makes the film look with interest to the most titles. On a plot of the two girls go to the island, where they are attacked by masked men, and for some reason they are trying to kill him. There will be a brief chase on the highway – a version of "Death Proof", and escape through the woods with a drill and the scene in the hospital … well, in the "massacre" collected all the best of the old operating cinema.
In the film, the camera work is great – there are so rarely shoot fans on the money. Still here quite actively used effects Artbeats. Not, as in "Planet of fear" where the film is literally boiled and foamed as well as it should – a bit in the intro, a bit in the end and a couple of times during the film. Three times the film just light up, that I as an amateur such finds very good. happy .. We should also mention the strong and controversial ending, perfect movie.
Screenshots:
Download: