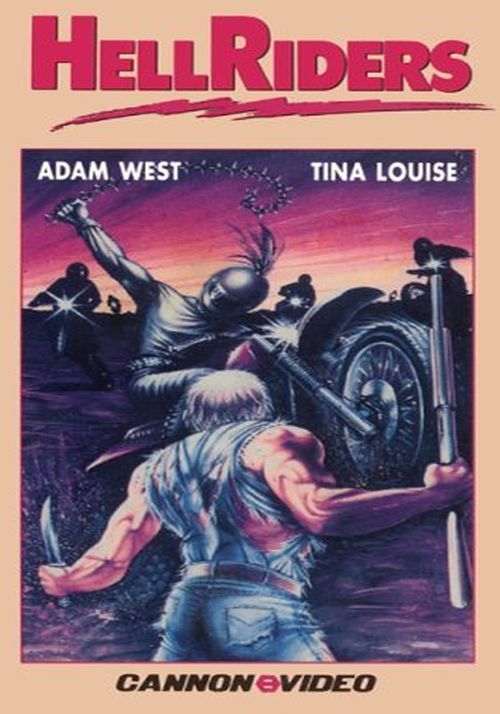 Year: 1984
Duration: 01:24:03
Directed by: James Bryan
Actors: Tina Louise, Adam West and Ross Alexander
Language: English
Country: USA
Also known as:  Die Brut der Gewalt, Gladiadores do Inferno, Höllenengel, Hellriders, Hellriders – tie vapauteen
Description: 60's television icons Adam West (Batman) and Tina Louise (Gilligans Island) evidently took the money and ran for their appearances in this low budget sleaze-o-rama quickie.
In the California high desert, a renegade gang of bikers known as the Hell Riders, murder, plunder, brutalize, butcher, rape, and beat the bejesus out of anything that moves….and then they really get rough.
One of the female gang member's rides stark naked. There's  no worry about her deserting the gang either, as she's kept on a leash.
Nice gal Claire Delaney (Tina Louise) bookends the story with a pair of none-too-cordial encounters with the scumbags of the title.  Fortunately, she's aided along the way by the town doctor, known to locals as Doctor Dave (Adam West).  The good doctor finally gets tired of sewing up his neighbors, and with the help of townsfolk, switches his stethoscope for a shotgun and surgically removes the festering cycle scabs from the face of the earth.
Hell Riders is a "B"  western with cycles instead of horses.  The soundtrack is generic country-western redneck twang, and the town looks like an old west theme park.
Hell Riders is about as dumb as they come.  It's also a lot of fun…especially with a quart of cheap whiskey or six pack on hand.
Screenshots:
Download: