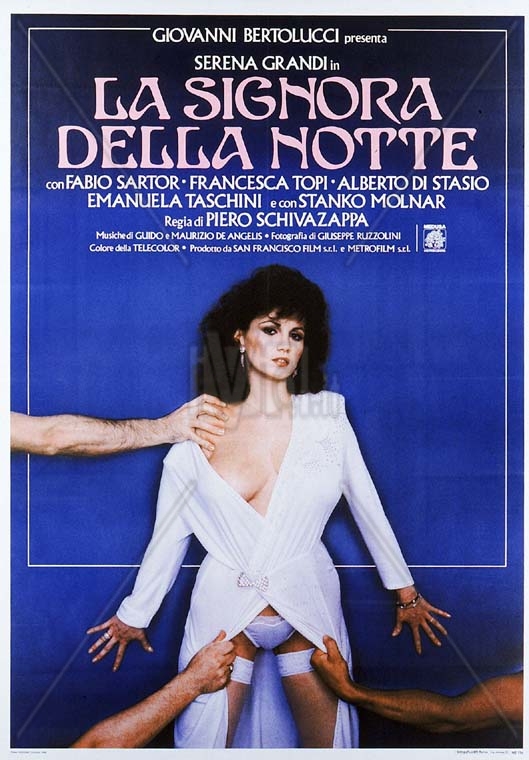 Year: 1986
Duration: 01:29:37
Directed by: Piero Schivazappa
Actors: Serena Grandi, Fabio Sartor, Francesca Topi
Language: Italian
Country: Italy
Also known as: Angelina – Von allen begehrt, Saanko suudella ruusunnuppuasi?, Yön valtiatar,Lady of the Night, Simona, i gynaika tis nyhtas, La signora della notte, Angelina: Lady of the Night, Angelina – Von allen begehrt,
Description: Rare nonsense! Unbearably boring to look at ugly playing actors who are at a loss , like blind kittens , when there are long pauses between events , like the plot provided . And he, in turn, is incredibly primitive : a young woman Simon , aerobics instructor , faint married to Marco , aviation plant engineer , because he wants to elementary – diversity and fantasy sex , preferably not in bed and to be able to resist the sudden onslaught of male : in a word, as it was her with the same Marco until they are married. Going through sexual tests with other men , Simon gets real satisfaction , being forcibly taken by her husband . And she immediately there is a desire to have a child .
" Erotic Star" Serena Grandi at a very decent figure and appropriate forms still looks silly , like a cork , completely helpless depicts passion , gaping mouth like a fish out of water , and too bad at all shows his acting. Difficult to believe that the appearance of "Night Woman" involved Skivadzappa Piero , who put in the early 70 's good melodrama "Meeting" of the doomed love, Giuseppe Rutstsolini , one of the best Italian operators and Giovanni Bertolucci , who was the producer of a number of significant works , including – his famous cousin Bernardo. And here they are discredited complete loss of professionalism and artistic flair .
After such an opus , which is still not without pleasure will look dreamy housewives and unmet personages movies Tinto Brass middle period ( and actually involved in them Giovanni Bertolucci as producer ) seem almost masterpieces esthetic delights , philosophical studies , so that becomes painfully ashamed of their former , too strict attitude towards the "key" or " Miranda " (incidentally , the same Grande in the title role ) .
Screenshots:
Download: