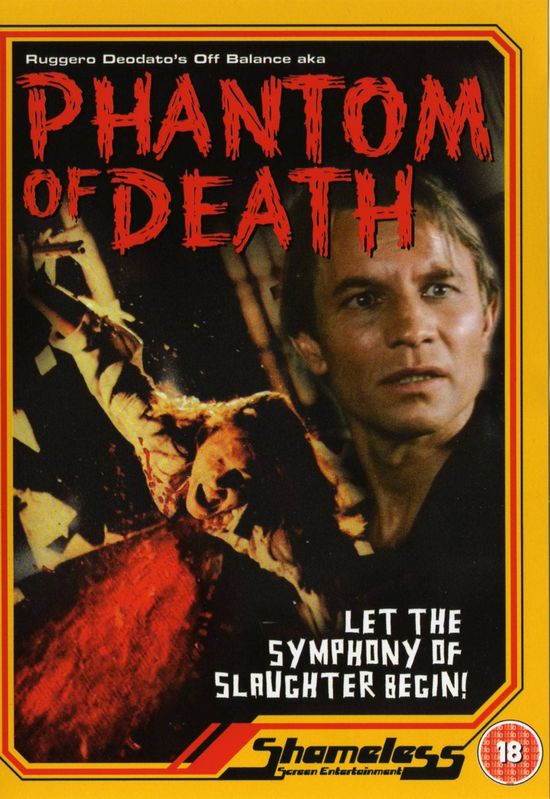 Year: 1988
Duration: 01:28:13
Directed by: Ruggero Deodato

Actors: Michael York, Edwige Fenech, Donald Pleasence

Language: English
Country: Italy

Also known as: Phantom of Death, Off Balance, Bestia asesina, Le tueur de la pleine lune, I metamorfosi, La casa di Via Rubens, Squilibrio, A Morte Era a Unica Saida

Description: Robert is a very successful piano player and he really has everything a man could wish for. When a doctor tells him that he's got a rare, fatal decease, causing him to age rapidly, he snaps. He starts to kill anyone who finds out about his decease and refuses to face his horrible destiny. Will the police figure out who's doing all these killings or will Robert's reign of terror stop first when he dies?
Review of Phantom of Death movie: At that people can decide on the threshold of a premature death? Can the dying still love the world and the people if a few months left to live ? How to come to terms with the thought of death , if you leave the light on the young?
Robert Dominici was all about. His exceptional musical talent , fame , love, women, and a bright future. But all dreams and joys of life collapsed in an instant . The doctor made ​​a terrible sentence – progeria syndrome of premature aging. The rare disease , which is becoming a victim of one chance in a million. And that Robert monstrously out of luck. In a matter of months from the young , wholesome men , Robert turned into a decrepit old man. Brain musician could not bear the terrible torments , and Robert threw the grief and anger on their loved ones …
The popular Italian director Ruggero Deodato took the unusual , cruel and heartbreaking thriller. Step -by-step Deodato shows dramatically change the monstrous body and soul doomed to a painful death . Wicked rock that hit Robert Domenici , making it one of the most tragic homicidal maniacs in the history of the genre. A terrible injustice of life pushes the musicians to the bloody crime scene. Robert takes revenge on mankind for their bitter fate. Murder and stupid game of cat and mouse with the police inspector did not bring him relief, they just do not think Robert makes some moments of his imminent and inevitable death. But the disease does not justify the crimes , as well as the death of the victims , Robert premature and unfair, as well as his own .
Lovers of modern thrillers " extraordinary crime" may seem slow and old-fashioned film, but we must understand that this movie is not Hollywood and filmed it on other canons. Many European genre paintings , not a " squinting under the American cinema ", characterized by a certain elegance , style and depth that are inaccessible to the Hollywood mainstream bands, Ruggero Deodato and the film is just a good example of the Italian intellectual horror .
Brightest star in the film shines a brilliant Michael York . Unfortunately , the last 10 years, the talented British actor of theater and cinema is filmed primarily in frank trash , but in the 80 's of last century, New York was a popular international actor who received an invitation to the high quality tape and the role of Robert Dominici – one of the pinnacles of his artistry.
Screenshots:
Download: