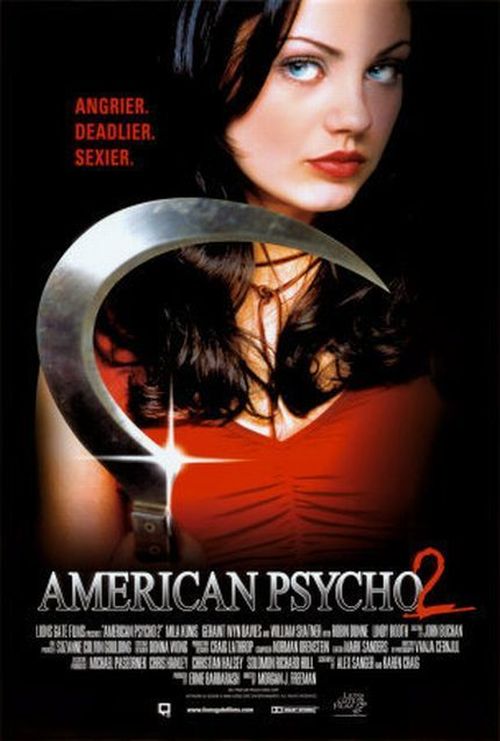 Year: 2002
Duration: 01:24:50
Directed by: Morgan J. Freeman
Actors:  Mila Kunis, William Shatner, Geraint Wyn Davies
Language: English
Country: USA
Also known as: American Psycho 2, American Psycho II, American Psycho II: Der Horror geht weiter, American Psycho II: Olhos Mortais, American psycho 2: El legado de Patrick Bateman, Amerikai pszichó 2, Amerikan psyko 2, Psicopata Americano 2, Ta matia tou tromou, The Girl Who Wouldn't Die
Description: No one knew that the famous American Psycho Patrick Bateman helped send to the light a little Rachel, do not hesitate plunging a knife into his back. Now the girl grew up and went to college at the prestigious courses criminology professor Robert Starkmana, the famous "hunter killers."
Do students ambitious plans: the one who will become an assistant Starkmana, be sure to enter a prestigious FBI Academy, and Rachel both want to follow his professor. The only pity is that it has a lot of competitors, but it does not matter – they are easy to remove when diligently shtudiruesh methods legendary assassins.
For this strong woman is ready to become the new "American psychopath", but whether it can achieve the desired goal, not to repeat the fate of his hero Patrick Bateman?
Review: This is a hilariously bad pseudo-sequel that simply ignores the original (book and the movie), apart from the introductory scene that makes no sense if you ever bothered to watch (read) the ending of AP. Plays more like a horror-comedy than a "serious" serial killer film… but even in that sense, it's so bad you can't but laugh along! Plus, it has The Shat!
I have the dvd so won't be downloading of course. I do have to say I don't get how renting this for Mila in it wouldn't be worth it, unless maybe you thought it was porn or something. But she doesn't do porn so I dunno.
Overall better than seeing that dude run around naked in part one, even if just because there was no naked guy running around in this one… I really could have done without that in case that isn't obvious already
Cult movies are different. Some become cult due to the fact that their so-called critics, connoisseurs, just spectators, others – due to the fact that something was moving inside of you every time you see a familiar scene.
Should not compare the first film to the second. Rachel Newman starts and wins, Patrick Bateman – only the first of the victims. Cold, calculating, sexy – and absolutely ruthless (her, by the way, is just beautiful), it is no match for the baby Patrick, is an absolute evil, pure admiration of its kind, without shouting and snot adult man at the end of "Psycho." After watching "Psycho 1" feel tired and exhausted, after watching "Psycho 2" appear mental strength, the existence of which you had no idea.
Rachel Newman – the perfect type, Mila Kunis loomed with remarkable dedication. This film could be reviewed many times, it has style and humor, and a charge of aggressive vigor, that it can be recommended as a means of emergency psychological assistance with stress, frustration and depression. And as a bonus, this film, you learn the names of almost all American maniacs.
The film is excellent, and should appeal to all fans of strong female types and characters.
Screenshots:
Download: