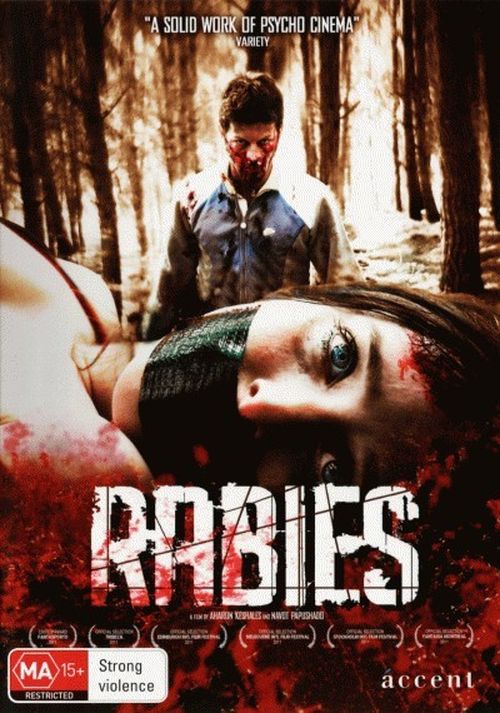 Year: 2010

Duration: 01:33:36
Directed by: Aharon Keshales, Navot Papushado
Actors: Lior Ashkenazi, Ania Bukstein, Danny Geva
Language: Hebrew | English Subtitles

Country: Isreal

Also known as: Rabies, Raiva, Lyssa, Rabies – A Big Slasher Massacre, Veszettség
Description: Adult brother and sister run away from home and hope to find temporary shelter in the forest. However, they are not the only ones who decided to hide their secrets – unknown psychotic killer set his traps in the forest, in one of which falls sister. Frightened brother runs though in search of someone who could help them, but accidentally gets hit by a car in which there are two pairs of young tennis players, who were lost on the way to the tournament. The young man takes the guys in the direction of the forest, to help him release her sister, girls are left alone on the road. Things then start to develop the most terrible and unexpected way, when come into play Forester, two policemen, and many others
Review: Just want to write that Kalevet belongs to SLASHER genre. The main of such films is not a GOOD actor, able to convey emotions and other skills for handing out different Academy awards, and a NICE picture. In this film picked up cute LADIES and interesting male characters, I want to say that evaluate the TALENT of the actors and REPRESENT as they would have played in Shakespeare's play vaguely. each genre has its own goal and evaluate it, preferably even so, considering this. In order not to look yourself ridiculous.
The film Kalevet is shot in a very MODEST money, and because the Israeli team working on the films, it is prudent to have removed almost all possible according to the plot dynamic EPISODES, thanks to this film does not look cheap and boring. The film is a kind of set of SCENES, with a rather amusing phrases, and dialogs. It is clear that try to remove Directors, for example, as in the beginning of the movie in a trap is a WOMAN, or in the neck VILLAIN gets dart – turned out to be a very ugly scene, and that, not much would fit into the MAINSTREAM of the film. And so, almost every scene is INSERTED some information is little related to the PREVIOUS SCENES, because in dialogues have to invest something interesting AUTHORS. In the film there is nothing superfluous, and you can watch it at any moment.
In General the first ISRAELI film on SLASHER stage turned out to be QUITE INTERESTING. Money spent wisely – shooting good and nice picture, phrases, juicy, Actresses cute.
9 out of 10 if movies like KENNELS and SLAUGHTER HOLIDAYS you like it, then look what the ISRAELITES did quite interesting. Oh and my review, as big as a movie, like FRAGMENTS of some, sorry – not talent.
Screenshots:
Download: