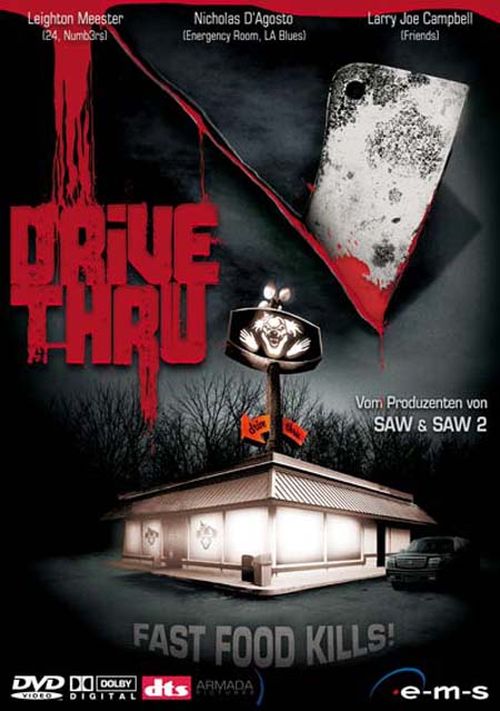 Year: 2007
Duration: 1:26:57
Directed by: Brendan Cowles, Shane Kuhn
Actors: Leighton Meester, Nicholas D'Agosto, Melora Hardin
Language: English
Country: USA
Also known as: Hellaburger, Burger Kill, Death Burger
Description: Mackenzie Carpenter's classmates suddenly begin to die from loss of blood. She's trying to figure out what's the matter, and finds that is closely linked with the killers and their victims. Merciless Horned Clown pursues girl, throwing strange hidden messages in the old toys … She realizes that she must meet with the villain face to face and confront him, whatever it may cost her!
Review: This actually turned out be an incredibly entertaining teen slasher flick, with plenty of pay off and a supernatural twist.  The gore starts right from  the beginning with the supernaturally charged, shit talking "Horny the Clown" slicing and dicing through the local teens with a vengeance. A big plus for creativity on the killers part for using unconventional methods to not only bloody and torture his victims, but to terrify the hell out his next mark by leaving a steaming pile of gore that used a close friends face for the next unknowing teen to find before meeting a gruesome and satisfying end. With a cameo by Morgan Spurlock
Horror movie Drive Thru, filmed largely crumpled required for horror tension is not maintained, no suspense injected. This is a rare case when the short running time is not in favor of the film, there is no time feel the atmosphere of the scene a little more time should have been given inflame. Also a lot of the film and illogical inconsistencies especially in the first half of the film. And in general, the work of the crew often looks unprofessional, such as some eye twitching corpses. And the movie is filled with enough cliches and trite cliche in the horror genre. And the choice in a clown suit for a villain looks too jaded a chur.
The film is quite familiar with Motel Hell and takes the other, like most horror movies he takes his inventive deaths. As well as its villain, mobile and even can be said in this elegant (which is extremely rare in films of this genre), which is more noticeable in the second half of the film. His negative charisma flooding the entire space of the episode, all the other characters seem pale against such a villain. Quite a charismatic character, leaving behind an impression.
Screenshots:
Download: