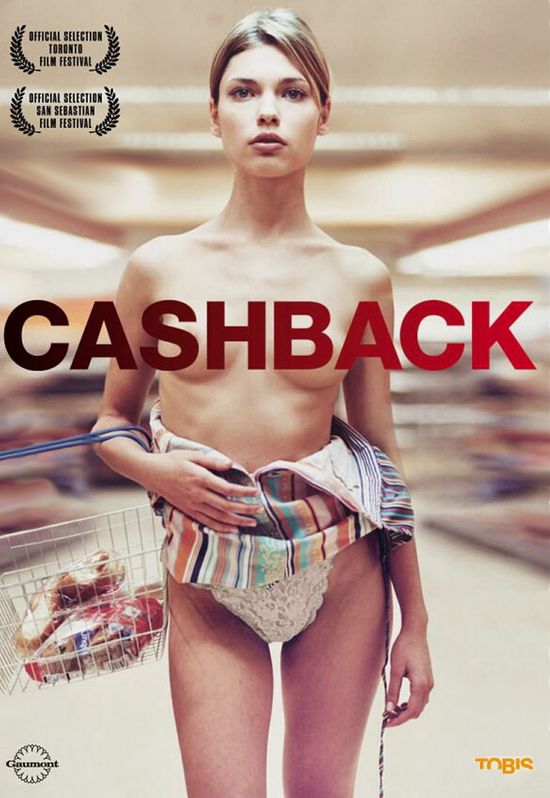 Year: 2006

Duration: 01:42:00
Directed by: Sean Ellis
Actors: Michelle Ryan, Sean Biggerstaff, Erica Ellis
Language: English | Spanish

Country: UK
Also known as: Belleza invaluable, Bem-Vindo ao Turno da Noite, Cashback: La beauté du temps, Despertando al deseo, Frozen Time, Visszajáró pénz, Zamana güzellik Kat
Description of Cashback: Surviving the painful parting with his beloved, Ben runs into insomnia. In the liberated 8 hours he starts working the night shift of the local supermarket, where the main task of staff is "killing of time" Suddenly, Ben finds himself in the unusual ability to stop time, giving impetus to his artistic talent.
Review of Cashback: Excellent film. Very beautiful. What beautiful moments, moments of our daily lives that we do not notice. Delightful words and dialogues of the time, love, beauty – all harmoniously intertwined in this film, creating one single story of the life of the protagonist Ben (Sean Biggerstaff). He used his ability to properly catching moments of beauty. There is not any vulgarity. Stripping girls was not what sexual predilections, but it was only a vision of "beauty of the female body bends" – the words of the protagonist Ben.
Since the script was written by Sean Ellis, and he is also the director, I think he could stand the thought and idea into a film from a script he wrote. Therefore, we must give him credit.
Beginning, middle, end – beautiful, looking not looking for just a movie. I advise everyone who wants to see the light and laid-back movie about beauty!
Review #2: Guy breaks up with girl. It is very hard going through separation. Basically, it's the whole story. Briefly. No different twists and plot turns. The plot can not be called a genius, but it is addictive. Tightens up as it is served.
All this is perfect female body. Nudity – the grandeur and the coolest movie. The film Cashback is not erotic, but is exactly the point. These beautiful women's bodies – the basis, perhaps, not the plot, but certainly the very attractive, which makes watching this movie.
Basically, we have become accustomed, that the main character is not the most beautiful and sexy. It is the most common and nothing stands out. But the rest of the characters are unique. Funny, charismatic, eccentric and just bright. That there is a duet of his friends on a supermarket.
I had my way, would remove all of the dialogue from the film. Of course, there are great phrase, but the words in this movie – nothing. This movie should look in the pitch silence, paying close attention to the magnificent camera work, showing us the most magnificent images and pictures, and the soundtrack. Music works very fit and in tune with this creation.
Return – is stingy with emotions, but full of happiness, joy and love a movie that badly need to look closely, looking at every detail and listening to great music.
Screenshots:
Download: