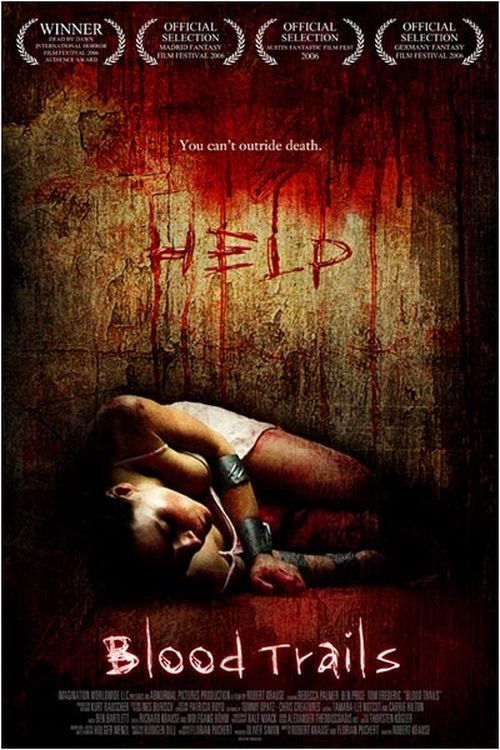 Year: 2006
Duration: 1:26:42
Directed by:  Robert Krause
Actors:  Rebecca Palmer, Ben Price, Tom Frederic
Language: English
Country: Germany
Also known as: Trilha de Sangue, Sentiers sanglants, Ihni apo aima, Gyilkos hegy, Rastos de Sangue

Description: To atone for the guilt after a casual acquaintance with another guy, Anne invites her boyfriend Michael on a trip to the mountains. But soon the surrounding trails are irrigated with blood, turning a walk into a desperate chase, the price of which is life!..
Young cute couple (guy and girl), intending to allow current in their relations crisis, push off from the big city for a weekend in the mountains. But there is nothing they have not built up in a relationship is because at mountain trails hosts a maniac. And maniac the handsome, sleeke on the bike with the hatchet, only one of his curly on the head (curly was visible in the scenes where he is without chimica) sends a knockdown and Hannibal Lecter and John DOE together, and he, among other things, these's a whole bunch of curls at the crown. And liked this maniac-pretty girl (the one in the couple was). She is a passionate cyclist, please note. But she liked him, or anyhow for that, and her thirst for life. And they're in single file, the guy from the maniac, the girl behind the guy, the maniac behind the girl, most of the movie, leaving bloody footprints. From there, I guess the title of the film.
Besides all of the above we should mention a very interesting camera work and script. Types of forests, mountains and one mountain waterfall look very impressive. Still, quite stylishly shot scenes car chases on bikes, though sometimes the impression that, in fact, rented the film, and advertising of sporting equipment or lysergic acid diethylamide, is more likely. Endowed nedyuzhy meaning conversation from a couple of words, scenes of silence and pereglyadyvaniya and screams and sobs.
Screenshots
Download