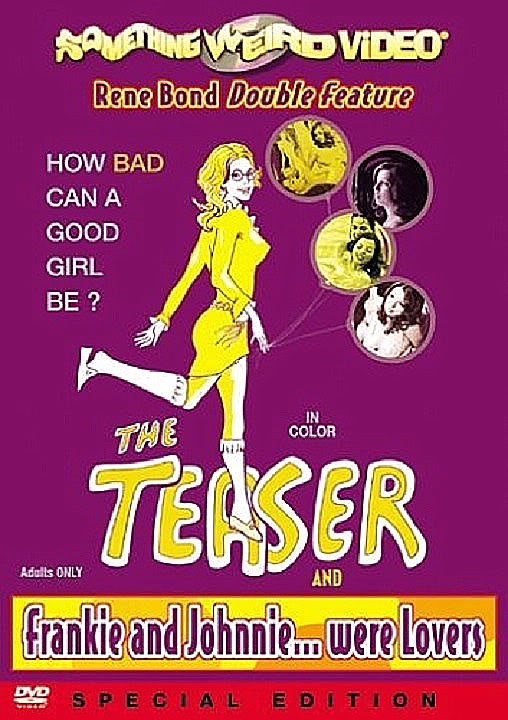 Year: 1974
Duration: 01:11:49
Directed by: Greg Valtierra
Actors: Becky Sharpe, John Paul Jones, Ric Lutze
Language: English
Country: USA
Also known as: The Teaser
Description:
Review:
Strictly a curiosity, TEASER presents a bevy of hardcore thesps doing strictly softcore roles, years after they had already toiled mightily in XXX quickies. The chance for a bigger budget and thereby perhaps greater exposure (no pun intended) went for naught, as even in video release it has aroused little attention.
The delightful Becky Sharpe is introduced as a painfully shy, bespectacled 19-year-old working as a clerk in a philately shop. (I could identify with that, having worked in a stamp store back in Cleveland at age 15.) We soon discover, however, that at night she is a go-go dancer in a nightclub, appearing on-stage fully nude.
This typical dual identity ploy turns out not to be the crux of TEASER. Instead it is the naiveté of Sharpe that is her undoing. She refuses the $ offered by sleaze-ball club customer Ric Lutze who wants to more than fraternize with her after hours, he being informed of her turn-down by intermediary, topless waitress Sandy Dempsey (truly wasted here in a nothing role).
So Lutze preys on her after her car breaks down, offering to help, but tying her up and raping her in the front seat instead. Seeming good Samaritans Rene Bond and her hubby Andy Mitchell give her a lift to their home, promising to have the car fixed pronto by a local garage. Instead of driving her to her home, they invite her to stay overnight: Gullible Young Lady Rule #2 broken.
What ensues is quite perfunctory, disappointing to me since scripter Walt Davis (who also has a supporting acting role) is one of the more talented pornographers of the era. Bond makes her oh-so-obvious moves on Becky, first treating her to a massage, then a nude swim in their pool and inevitably a lesbian tryst in front of the fireplace. Mitchell, smoking an opium pipe, has an imaginary sex scene with Becky that is strictly wishful thinking -not real and extremely tedious, simulated fellatio included. It begs to have been hardcore, but Mitchell is a softcore ringer in the movie, having made it into the history books as the older lover of Peggy Church (and recipient of her motherly nipple treatment) in the all-time soft classic THE ALL-American GIRL.
SPOILERS ALERT:
With Becky still dimwitted, film climaxes with an orgy party wherein the script makes no sense whatsoever: Mitchell and Lutze are revealed to be human traffickers, planning all along to ship Becky to Mexico, sold into prostitution there. At the orgy she's paired up with Ric, his face blatantly scarred with her futile fingernails' defense, and both of them pretend they never met before -ridiculous! Finale is as cynical as it gets -only in porn would they try for this.
Becky is barely saved from more fate worse than death action by the arrival of her young boyfriend John Paul Jones, and presumably has finally learned her lesson. Yet life goes on, as TEASER ends with Becky back on stage stripping at the club. Given its title, the film implicitly links her nude dancing with the attraction to would-be rapists out in the audience stepping over the line, a dreary and moralistic approach that I found ingenuous and downright stupid for pornographers to take.
Five of the leading players are more famous from their XXX roles than softies like this one, so apparently sound man turned filmmaker Greg Valtierra and his partner Ross Sommers thought they were doing everybody a favor by having them go soft. The fact that Valtierra was later a sound-man on everything from Disney movies to John Holmes vehicles makes his motivations even more cryptic.
With a bigger budget (not big, just bigger) than usual, at least our favorites look nice, but this adds up to one big nothing in their prolific careers. A teaser, indeed.
Screenshots:
Download: