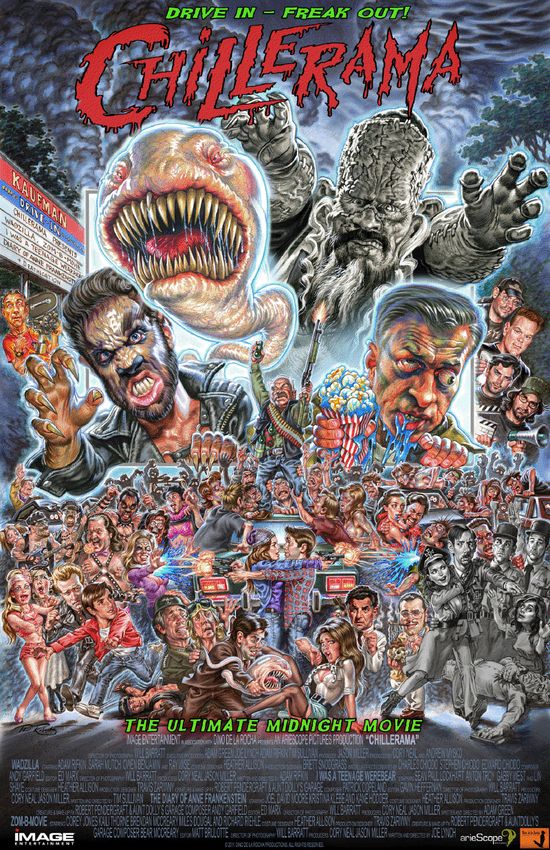 Year: 2011

Duration: 01:59:49
Directed by: Adam Green, Joe Lynch, Bear McCreary, Adam Rifkin, Tim Sullivan
Actors: Adam Rifkin, Sarah Mutch, Ray Wise
Language: English
Country: USA
Also known as: 
Description: Chillerama – a film about the golden era of the horrors of the last century and a parody on films released over 40 years ago, taking the most evil and stupid from them. How do you like this: "A worker for the theater, in a drunken state, digs up his deceased wife's body and try to orally rape her, only for her to turn into a zombie and bite off his genitals causing him to slowly turn into a zombie between segments as he is working."
Review: GCAP studio Troma, I learned the genre, like trash. After my knowledge increased, and it turned out that half of the movies from the deep childhood, are nothing more than a typical trash, can I go on living, knowing this? Of course! And if briefly describe Chilleramu, repeat the story with Nolan masterpiece "The Beginning", but this time, instead of dreams, are movies. To make it more clear, the film within a film within a film.
There are films by people with a keen sense of beauty. Such as "Chillerama". Chernushnaya freak parody durnovkusny Grindhouse, she performed in the worst possible taste – it's still an amateur film (and more – to a connoisseur of the genre, as far removed from the horror category B viewers simply do not understand what actually parodied).
Four of missing stars from the sky filmed by director film short story that reflects their personal view of the bad taste in the genre. Here and "Spermzilla" the monstrous sperm-age, the Statue of Liberty to fertilize itself. Here and a new story about Hitler Frankenstein, is made from the bodies of Jewish monster. And the story about the bear werewolves, gay, too. Finally, Zimba-movie of the rebels dead, prefer not to eat and fuck their victims. (There is also a passage "Death vysery" for which did not take any responsibility of the directors. Interestingly, in every part of the Grindhouse parody has a "target", "Frankenstein" cheap propaganda parodies horror 40s, "Spermzilla "- terrible movies about monsters 50's," The Werewolf "- beach pictures youth 50 60,« Zom-B-Movie », respectively, zombie movies 80.
All this is quite fun: in place of the river and the mountains of fake blood guts, boobs (but, as has been noted, in the film, still not enough), vulgar, rude jokes and skits, deliberately poor quality special effects, deliberately bad acting and deliberate mistakes in the survey, and the sea, the sea of ​​stupidity. Yet to unbridled bloody fun early Peter Jackson or toxic to unbridled genius of the late Lloyd Kaufman directors' Chilleramy "alas, far. These violent still small.
By the way, a small nod to the titans of the genre – the studio "Troma" has been seen: graynhausa name of the owner, in which the action unfolds – Kaufman.
Screenshots:
Download: