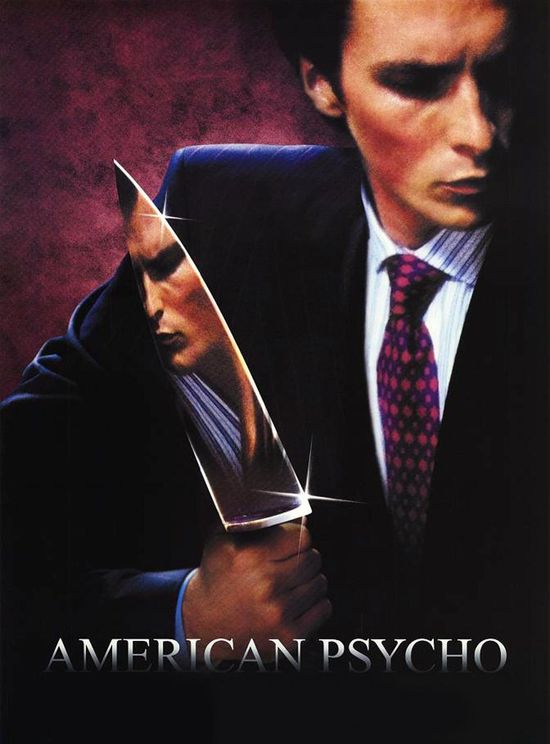 Year: 2000
Duration: 01:42:02
Directed by: Mary Harron
Actors: Christian Bale, Reese Witherspoon, Jared Leto and Chloe Sevigny
Language: English | Spanish | Cantonese
Country: USA
Also known as: Psicopata Americano, Americki psiho, Amerikai pszichó, Amerikan psyko
Description: By day, he is not different from the others in the crowd, you do not pay attention to him. But at night he turns from a well-mannered citizen into a sophisticated killer terrorizes sleeping city. Modern savages, despising the laws of humanity, eats only a withering fire of his hatred, which is growing with each new offense. Avalanche horror approaching a critical point. Soon the time will come when it will be impossible to stop American Psycho.
Review: The film "American Psycho" was shot in 2000 American Mary Herron, based on the novel by Bret Easton Ellis, in his time was good estimate of film critics and ordinary viewers. A role in this was played by such facts as a great game, Christian Bale, good soundtrack and a decent adaptation of the novel.
Probably safe to say that it is the "American Psycho" was for the then little-known Christian Bale (later starring in such films as "The Prestige" and "The Dark Knight"), the first really serious role in the so to say "senior level" (As a child, Bale starred in famous ribbon Spielberg's "Empire of the Sun"). Bail hero name is Patrick Bateman. Patrick – a young businessman who lives in Manhattan, he is rich, handsome, smart. But it's all "part of the story." Bateman at night turns into a ruthless killer, hungry blood. At the time, the novel "American Psycho" made me a very good impression, a deep inner world of the protagonist, detailed descriptions of murders and sexual adventures Bateman, holding in suspense plot and colorful main characters made this book really interesting. It should be emphasized that an important (the main?) Of the novel are love affairs Bateman and methods of massacre victims. In the adaptation, unfortunately these two aspects are not adequately displayed. We will show a few scenes in which Bateman kills people, but, alas, no detail the scenes and do not smell, we just show how Bateman (killing one of his victims) wave his ax and then we will show a dead body in a pool of blood. After all, the victims of violence – this is one of the main features of the novel, which, unfortunately, was lost in the film. Reproach the film for not showing detailed scenes with sexual activities Bateman (incidentally present in the novel) rather silly, since Mary Herron was filming a thriller, not "adult film."
Christian Bale himself, of course, stunningly played a role. Created the image maniac obviously will not get lost, even among such characters as Hannibal Lecter and Norman Bates. His character is ruthless, his victims absolutely nothing in common, all of his murders he commits a senseless and cruel. Game Bale in this film does not cause any problems. So it was very nice to see in this film remarkable American actress Reese Witherspoon. It is true she got a recurring role bride Bateman. As the role of one of the victims played Jared Leto.

Screenshots:
Download: