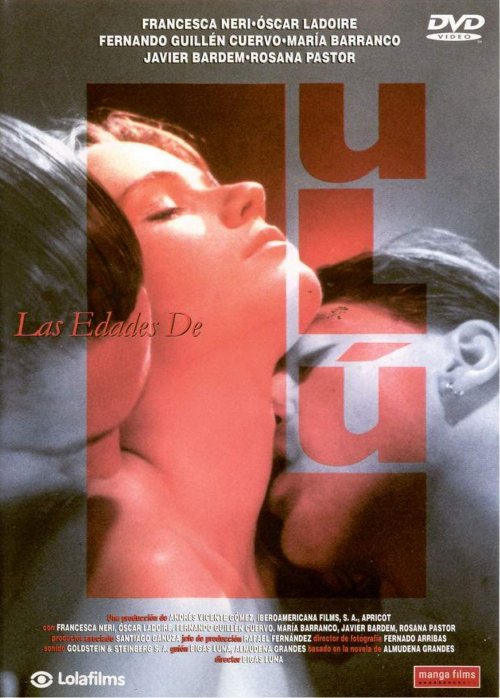 Year: 1990
Duration: 01:35:26
Directed by: Bigas Luna

Actors: Francesca Neri, María Barranco, Fernando Guillén Cuervo and Javier Bardem
Language: Spanish (English subs)

Country: Spain
Also known as: Las edades de Lulú
Description: Pleasing Lulu lost her virginity at a very tender age. Only in the wedding union with Pablo, she discovered what true love is. On the Lulu's part felt not only the encounter  with the heavenly side of sex, but also with the torments of hell … The lifetime tale of a young lady by the name of Lulu and her connection with Pablo, an American teacher, who lured Lulu, when she was still a young girl, and controlled her. The history of that sex and love – two various things. So says Pablo, having Lulu through a series of sexual playing. Here in this film you may find incest, and transgender people, and Lulu participating in orgies with gay and BDSM.
Review: The most outspoken and tough drama erotic classic Spanish Bigasa Luna, exploring the most daring sexuality. Francesca Neri (Dispara), Javier Bardem (Between Your Legs) – very acting game was awesome. The film is not about sex, a film about an attempt to compensate for the pain and make each other a little bit happier.
We have all experienced the same periods in the development of relations, the time in different ways, in fact one and the same with a few exceptions. Growing Lulu is the film "cream" of all that can be done, where one partner or both out of the relationship and it's not about sex, not love. Look at what the heroes have to go through the movie to understand the simple truth. This is a very difficult path to understanding, we want to believe that you think that I scribbled.

Review #2: It is fun and interesting watching Lulu, from a virgin and innocent teenager, who knows
nothing about sex, to a full blown adult who loves being sodomized, threesome experiments,
kinky and bizarre sex with homo guys and sadomasochism. It is a disguised pornography in a
serious drama with not too drastic visuals actually.
The scene which captured my imagination is when Pablo, Lulu's crush, wants her to BJ
him in his car, she unwillingly does it professionally yet in the most inexperienced way.
Seriously…she reminds me of my ex!
The threesome scene is also interesting. She explores the degree of degrading herself with
gays in the underground of Madrid. Watching her proposing her request to the homos are
cute!
Screenshots:
Download: