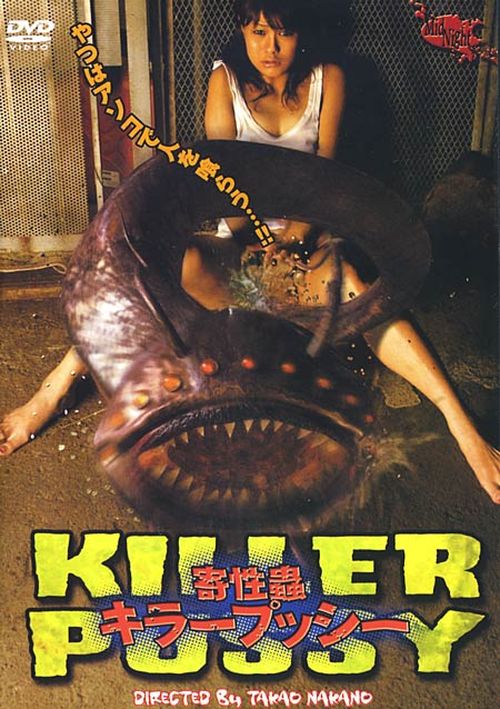 Year: 2004

Duration: 00:59:45
Directed by: Takao Nakano
Actors: Sakurako Kaoru, Natsumi Mitsu, Masanori Miyamoto |
Language: Japanese (Eng Subs)

Country: Japan

Also known as: Kiseichuu: kiraa pusshii, Szexparazita, avagy a gyilkos punci, 
Description of Killer Pussy movie: A group of teenagers coming to an abandoned house to have a party – have a drink and make love. One of the girls infuses a parasite, and then from her vagina grow fangs and she begins to kill them all.
Review: Did not understand why write about such a bad movie , such long abstruse reviews .. . Letters so dedicated to this that the thought creeps in that this is not a review of the usual low-budget trash and attempt to write the authors in the genre of film critics .
The film Sexual Parasite: Killer Pussy as a film for its genre , it has everything , and an original storyline and a selection of non-professional actors (and where to thrash removed Proffit ?) . And the name immediately attracts the audience.
At the expense of the quality of the shooting , it is consistent , as well as acting. Add more purely Japanese perception of the genre as trash, then all at once falls into place . Hence the constant flashing of the girls' breasts and asses , even quite decent , the Japanese criteria.
In general, the film such that are remembered for a long time , and that then a lot of talk , (no matter in what context ) , and want to see it is not so little, and this is what the director sought with his team .
I personally would not feel sorry for hours spent on viewing this masterpiece of Japanese cinema for fans of thrash .
Screenshots:
Download: