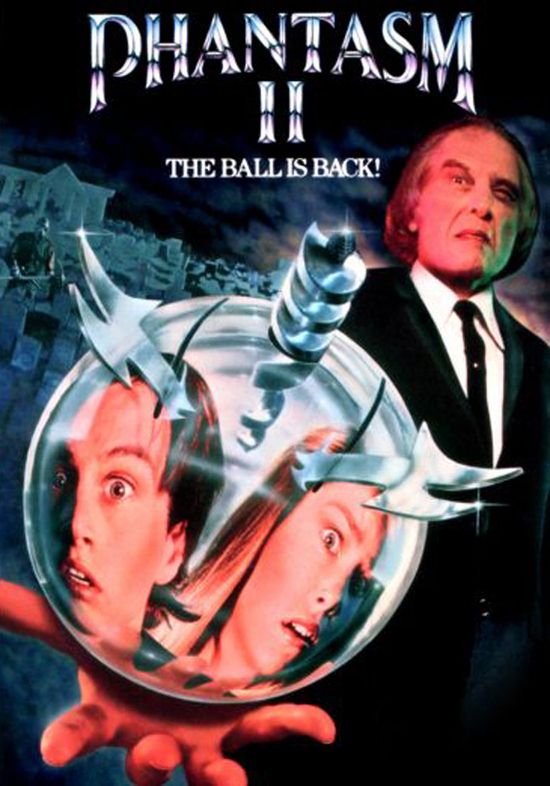 Year: 1988
Duration: 01:37:00
Directed by: Don Coscarelli
Actors: James Le Gros, Reggie Bannister, Angus Scrimm
Language: English
Country: USA
Also known as: Fantasma II, Agyrém 2, Das Böse II, Fantasma 2, Fantasmi II, Mordercze kuleczki II, Phantasm 2, Phantasm II, de nieuwe nacht van de levende doden, Phantasm II: The Never Dead Part Two, Phantasma II – El regreso, Prikaza 2
Description: "Phantasm 2′" is back! By deadly whirlwind he rushes through the West United States, this time surrounded by a legion of Silver Spheres and demons have become faster and more dangerous.
Only his opponents, Mike and Reggie are able to fully understand the threat from Evil Dead . Having accepted his team a beautiful Liz, friends decide to forever do away with the "Phantasm 2". If he does not destroy them before …
Review: Formed through the whole ten years the second part of the cult who had become "Phantasm", despite the best special effects (the budget has grown at 10 times and made $ 3 million) and more than competent and prudent directorial handwriting proves that almost anything new Don Coscarelli could not think . Survivor in a fight with some tall boy Mike (played by a different actor) with the support of Reggie, a friend of his dead brothers still Jody begins a real battle for their lives and for the girl Liz, who also became the owner of mystery, causing the blood in my veins styt .
Everything seems to be irritating, impressive and striking. But, oddly enough, not enough of the naivety and ineptitude that made up the charm of the first "Phantasm" is perceived by young author and character, and not always because of their dexterous action on screen and behind the screen as a kind of "avtokoshmara" that is, the projection on the film of their own fears and obsessions Coscarelli. Not surprisingly, the second picture was popular at the box office is 2.5 times less than the original. However, Don Coscarelli (Beastmaster) after long breaks released the third and fourth series of "Phantasm II", trying in vain to replicate the opening of fleeting youth.
Review #2:  Continuation of cult horror Don Coscarelli came only 10 years after the release of the first tape. With a greater budget and perfected direction, "Phantasm 2" nevertheless preserved the atmosphere of the first film.
However, fans of the first part had to do not like that instead of Michael Baldwin, who played Mike came James Le Gros who brought the image of a lot of his own. The second part of the viewer learns more about the mythology Hoosier in unchanged by Angus Skrimma. Director's imagination in this part of the fully disclosed, awesome special effects hit so far (especially the brain Drilling balls, which are now joined by car abruptly and terrible), and bright style camerawork Darin Okada has become a real decoration of the picture.
In fact, the second part of a more meaningful and more reminiscent of the drama, which centers on Mike, fighting the real evil in the face of big man – demon woven human fears and sufferings.
"Phantasm 2" – a worthy continuation of the cult horror film, which now looks very important.
Screenshots:
Download: