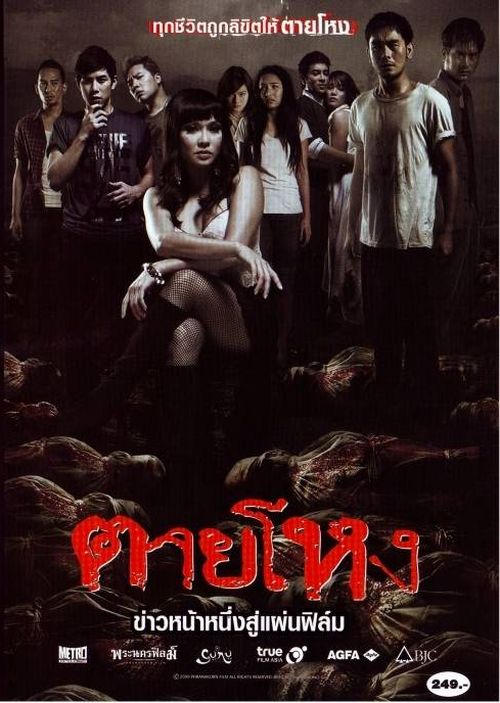 Year: 2010

Duration: 01:40:13
Directed by: Poj Arnon, Chatchai Katenut, Tanwarin Sukkhapisi & Manussa Vorasingha
Actors:  Mai Charoenpura, Akara Amarttayakul and Supakson Chaimongkol
Language: Thai | English Subs

Country: Thailand
Also known as: Still, Die a Violent Death

Description: An omnibus film of four stories pulled straight from Thailand's most gruesome headlines. In "Flame", a man is haunted by regret and a ghost after he survives a nightclub fire that killed his girlfriend. In "Imprison", a prisoner questions his sanity after his cell-mate hangs himself. In "Revenge", a deaf-mute drug dealer murders a woman thief in his apartment, and makes the mistake of stashing her corpse in his apartment building's water duct. Finally, in the comic "Haunting Motel", an aging stripper-cum-prostitute, a gay guy and his straight friend end up in a hotel owned by a crazy old lady and haunted by a ladykiller.
They avoided one of the most painful deaths, burned alive, but the ghosts chase them, leaving no chance for survival. The film consists of four stories based on real events.
Here, there is not a value, or logic operations. Four stories about the ghosts bring any innocent (or innocent) people to distraction did not cause the slightest interest in me. Frankly sleepy.
And if the first and the second part, I tried to find some kind of flavor, the closer to the middle of the movie just started to rewind the film, unable to look at the comic antics of Thai actors. Although I want to say that the first part was very good shot in the style of mystical drama, and if the director has paid more attention to just the story, we would have a very original and high-quality movies. It is a pity that the potential has not been realized again.
Screenshots:
Download: