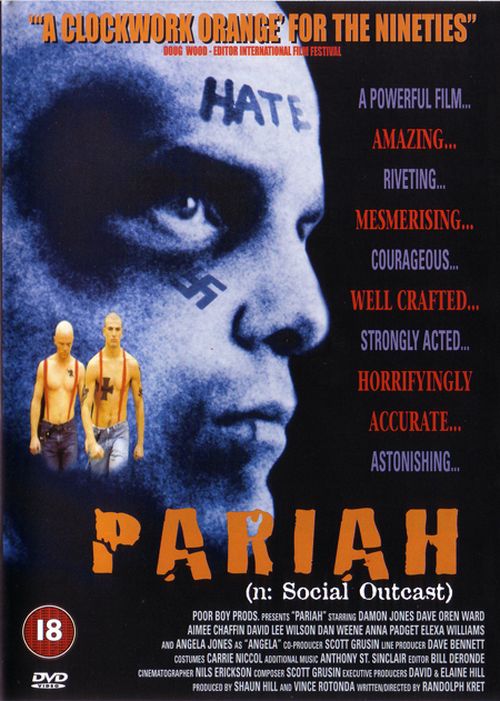 Year: 1998
Duration: 01:37:59
Directed by: Randolph Kret
Actors: Damon Jones, Dave Oren Ward, Davidlee Willson, Aimee Chaffin
Language: English
Country: USA
Also known as: Oi paries, Pariah – ulkopuolinen, Skinheads vs. Hooligans, Social Outcasts – Gewalt ist ihr Gesetz
Description: A group of nazi skinheads rapes an innocent black girl in front of her husband. Unable to withstand the shock, she commits the suicide. Her boyfriend, consumed by anger and despair, puts on a neo-Nazi clothes and goes to avenge his offenders. He will have to stand before a choice – whether to be a blind instrument of revenge or try to stay a human in this vicious angry gang.
Review: All-consuming hatred. It eats your nature. It covers your being – completely and without reserve. It feeds your inner beast. It owns you! But most importantly, it is self-sufficient – provides answers to any questions. Do not ask "why" – just hit. Do not ask "why" – just kill. Just hate. Hate, that would live. This is your path and walk it should be up to the end …
On the topic of nazi skinheads was filmed many movies. This film is qualitatively different from the rest of some common leitmotif: animal rage. Looks very corny, but it is only a first impression. Dribble have deeper roots of racism are often at the personal insults. And the feeling that drives it all – all the same hatred.

Screenshots:
Download: