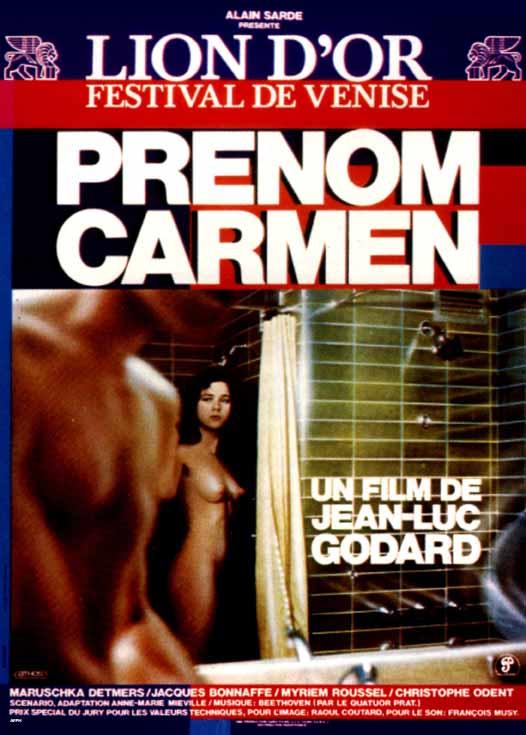 Year: 1983
Duration: 01:24:01
Directed by: Jean-Luc Godard
Actors:  Maruschka Detmers, Jacques Bonnaffé, Myriem Roussel
Language: France
Country: French (English Sub)
Also known as: "Prénom Carmen" (original title), Imie Carmen, First Name: Carmen

Description: In 1979, Godard returned to the cinema with a big picture of " every man for himself ", was followed by "Passion" ( I personally think it is a kind of reinterpretation of the topics covered in " Contempt "), and in 1983 Jean-Luc Godard creates a " Name Carmen" .
The film reveals not a single plot , but several storylines. The first line is the story of Uncle Jeannot , who initially imitated craziness is in the hospital . The second line is the story of Carmen Jeannot niece who comes to his uncle to ask him for an apartment for allegedly filming and then her affair with the police , which she twirled on the spot robbery. Third line – about a gang , whose member and Carmen, who first commits a bank robbery , and then plans to kidnap the daughter of an influential businessman . And all this is mixed with rehearsals "Quartet Prat " playing Beethoven.
With this film, the author ridicules everything , including himself. Generally, he sneer at themselves more in the " every man for himself ", but there it was done indirectly through line character Paul Godard , but Godard then played himself . They played Uncle Jeannot roaming the hospital ward in an embrace with a tape recorder and talking rudeness nurses , ill-shaven , dressed in well-worn clothes and constantly smoking a cigar stub . And he really seems to have exhausted itself just crazy, which only grumble is the contemporary film industry and young people. He also ridiculed as before in the " Chinese woman " radical youth . It is expressed in a previous scene fabulously bank robbery and attempted abduction , which are either shooting the film , whether real actions ( we can say that this Godard also ridiculed his radicalism or 70s as it was said in one of his films : " Game Revolution" ) .
Need to be addressed and the technical side of the film. First the movie beautiful sound installation, in particular its transitions from Beethoven's music to Tom Waits . And from the first frame is visible to the operator work longtime Godard Kutarev Raul , his " all-seeing " camera perfectly complements the film.
To summarize , I want to say that do not believe those who say that Jean- Luc Godard was exhausted after 1967 . And even though his films 80s no longer feel the energy that was in Godard in the 60s , yet he can still create masterpieces .
As usual with copyrighted movies , I will not put him praise.
Screenshots:
Download: