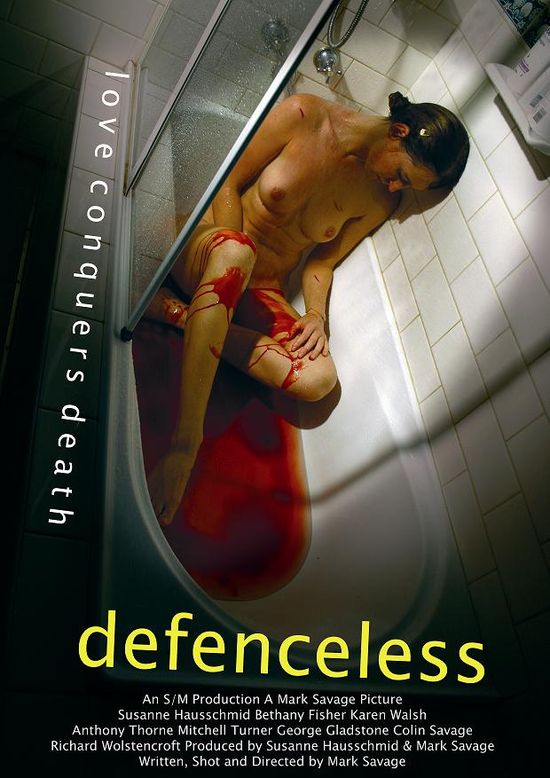 Year: 2004
Duration: 01:38:53
Directed by: Mark Savage
Actors: Susanne Hausschmid, Bethany Fisher, Colin Savage, Erin Walsh
Language: English
Country: Australia
Also known as:
Description:  Directed by Mark Savage, the author of Marauders
They raped her . It was a monstrous abuse. And then killed . But she came back with the sole intention now : revenge on his murderers , by drinking their blood freely and enjoy the pain flares damped eyes.
The film " Defenceless", filmed in 2004 by Australian director Mark Savage formally belong to the category «revenge movie», is a very unusual and punch beyond the usual scope of genre painting. Depriving his characters names and verbal features (none of the characters in the film and did not utter a word) and assign them certain social functions (although the main character is called simply Woman ), Mark Savage horror author created a custom , universal in its ideological content, because " defenseless " , which has also subtitled" Blood Symphony " (the film is also an audiovisual creation, which soundtrack composer George Papanicolaou expertly superimposed on extremely realistic visuals and hard ) , a philosophical story, in which Life and Death entwined as Love and Hate . Women and revenge becomes destructive and creative force elements, which can not be stopped . Mark Savage confidently balances in the picture on the verge between the rigid naturalism in showing violence and symbolism , making almost every shot artistically crafted and maintaining the tape in a dirty yellow color.
Suzanne Haushmid in the role of women driven by revenge , got used perfectly , creating a unique and amazing dramatic image . Also nice got used to their heroes Bethany Fisher, Colin Savage and Erin Walsh.
All fans of unusual and unconventional horror films I highly recommend this movie .
Screenshots:
Download: