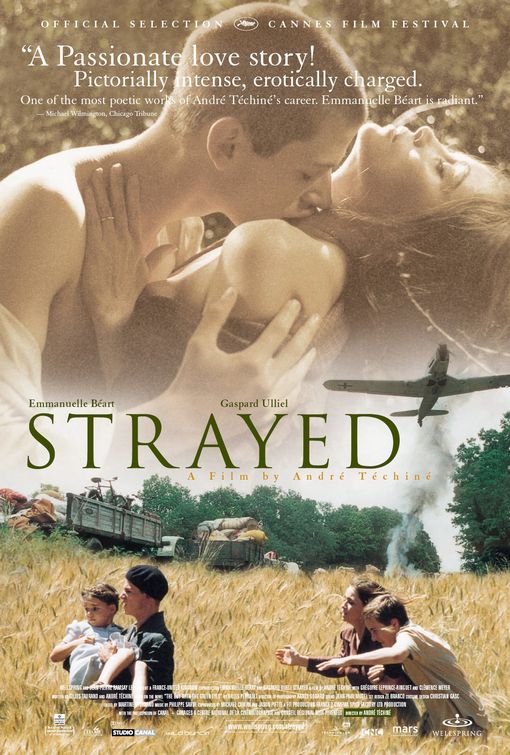 Year: 2003

Duration: 01:30:05
Directed by: André Téchiné
Actors: Emmanuelle Béart, Gaspard Ulliel, Grégoire Leprince-Ringuet, Clémence Meyer
Language: French (English subs)

Country: France | UK

Also known as: Les égarés, Le garçon aux yeux gris, Lejos del mundo, Fugitivos (Les égarés)
Description: June 1940. Paris was occupied by the Nazis. Widowed schoolteacher Odile, yielding of a total panic, decides to flee from the city with her two children. When the road on which there is a stream of refugees, fired from aircraft, Odile breaks down and they are forced to take refuge with the children in the forest. There they encounter with Ivan, seventeen illiterate fugitive. Guy, well adapted for wartime conditions, helps the family to survive, but at times his strange things scare poor woman …
Review: The film "Strayed" is interesting, and very well-shot camera work deserves special attention. It could look just for aesthetic pleasure: a beautiful picture, good camera angles and nice actors, but the story itself does not disappoint. The history of relations between strangers written and performed excellently.
As for the actors I never liked Emanuel Bear, but this time she surprised and the game, and a way, different from all previous ones. Gaspard Ulliel was also at a height that in general, is confirmed by Cesar nomination for Actor category-Hope. Despite his young age (he is only a year older than his character, that is, he is 18) Gaspar was able to convey the complexity of Ivan.
Thin and emotional game creates a certain mood, rather unusual for a tape of the war. Of course the movie Strayed is not a complex plot, some consider it a minus, but in my opinion a measured action only blurs the line between fiction and reality.

Screenshots:
Download: