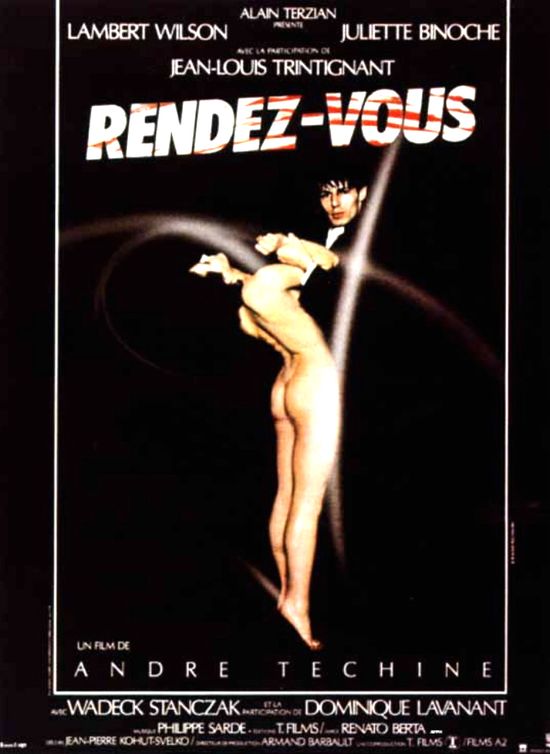 Year: 1985
Duration: 01:22:33
Directed by: André Téchiné
Actors: Lambert Wilson, Juliette Binoche and Wadeck Stanczak
Language: French (English subs)

Country: France
Also known as: André Téchiné's Rendez-Vous, Apasionados, Encontro, 
Description: Beautiful and incredibly sexy girl, one of those in who blindly fall in love all men, comes from the provinces to Paris, hoping to become an actress. Fate confronts her with a young actor, to experience, as it turned out, into a terrible personal tragedy …
Review: Rendez-vous … a chance meeting of two people, which put an end to the life of one and indicated the direction of the life of another.
Nina – aspiring actress, who came from the provinces to conquer Paris, a few empty and easily accessible. It has no purpose, it just once packed up and left the house, and met a young man working at the entrance to the theater, decided on his advice, to become an actress. Day by day, she is waiting for her to suggest that fate: new rooms, new man … But her life changes when she meets Quentin. Unusual, bright, unlike the others, he seemed to live in his own world that surrounds him is not interested, he does not want to live. Later we find out the cause of this his condition. Four years ago, he lost a lover … And then Téchiné as it plays all the famous Shakespeare play "Romeo and Juliet", his film – like a continuation of the play, the vision of its director. Juliet dies, Romeo, seeking death. But nothing is so simple, even after the death of love is not to die. Encounter with her – an epiphany, a revelation for someone so experienced that feeling, should share the truth with others, to "grain corn paid off."
Nina for Quentin is like a blank sheet of paper on which shall be written his will, is where it will leave a part of yourself, something that will live on after his death … Nina – the soil in which the seed germinates.

Screenshots:
Download: