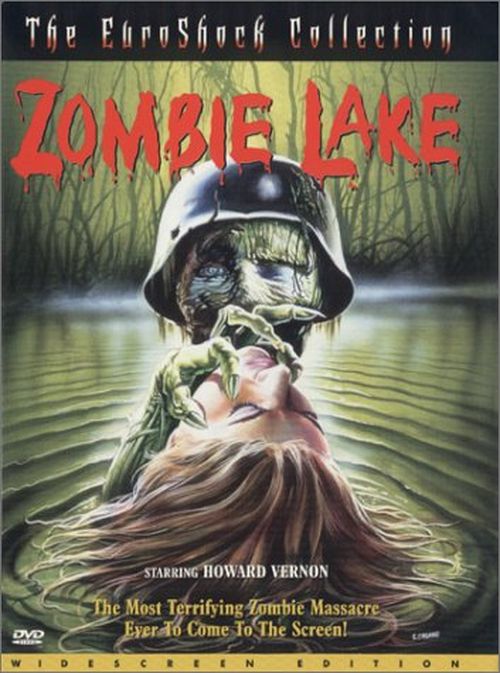 Year: 1981
Duration: 01:23:17
Directed by: Jean Rollin
Actors: Howard Vernon, Pierre-Marie Escourrou and Anouchka
Language: French

Country: France

Also known as: Le lac des morts vivants, El lago de los muertos vivientes, El lago de los zombies, I limni ton zontanon nekron, Sumpf der lebenden Toten, The Lake of the Living Dead
Description: Near the small village is a lake where the locals do not recommend anyone to swim. However, as is usually happens, a young girl, ignoring the advice goes to swim in the lake, and attacked by a zombie, dressed in a Nazi uniform with a green face. More – more … Zombie Nazis are not satisfied merely incidental victims stroll to their picnic, and therefore out of the lake in search of new victims … Filmed by Jean Rollin, the maker of Grapes of Death and Lips of Blood
Review: I do not know what they thought and hoped that the creators of the film shooting this picture, but I doubt that the hoped for success. I recall the movie came out in 1981, in those days often made films about zombies of varying quality: good and bad, scary and silly, quality and simple. Which from this list to carry this film I know well. Namely – terribly stupid movie. I still do not understand one thing, like this movie at all physically able to stretch as much as a half hour. It spoils it even more because of slow scenes, completely unnecessary scenes, and long conversations are very scarce. One gets the feeling that the script wrote a hundred people, and everyone wanted to insert a piece written here. But in the end turned out such nonsense that it is hard to describe. I do not remember when I first saw the movie, but I guess, that even then I did not like. So, try to clear and clearly explain what I personally do not hit movie, as, probably, and many others.
In the story, the film is set in a small village where peace and quiet people live. Nearby the village is a large lake. That's just it has long been empty, at least there are sometimes people go. Residents of all warn that there is no way that you can never bathe. No one, of course, does not believe, believes this fairy tale, and pay for such carelessness with his life. Initially, the film comes to the lake a young girl who also probably turned down requests residents not to swim. She swims peacefully for a long time, and then it sharply enough zombie Nazi, appeared out of the lake. In my opinion, it was less interesting scene. Next begins the same mess. First, we have to listen to stupid dialogues characters who talk as if defeat monsters in the lake, but nothing has been made, sometimes in the same frame, causing destruction and killing zombies. I do not know whether you suffer further. I could hardly stand it.
In my opinion, the movie was very dull, boring, uninteresting … It goes on and on. I do not know what is its main disadvantage, it consists entirely of flaws. Even so, the picture looked cheap. I'll get to the pluses and minuses. The pros are brought one single scene at the beginning and a beautiful girl who was swimming in the lake, in spite of the fact that sailed long look at her did not bother. And he brought some music that I have, surprisingly, was hooked. In the cons are brought everything: acting, special effects, dialogue, idea, story and everything else. All this is done badly. Explain. Acting is unconvincing, I think if you watch the ordinary people, like the ones walking and talking, they would have turned out better. Special effects … and if they were here? I doubt it. If you call some homemade paint, which nalepili the actors who play zombie Nazis them to me, by the way, was very sorry, call it special effects. The dialogues of them can drive you mad, you'd better make a dumb movie. The idea and the story kind of good, but poorly served.
Screenshots:
Download: