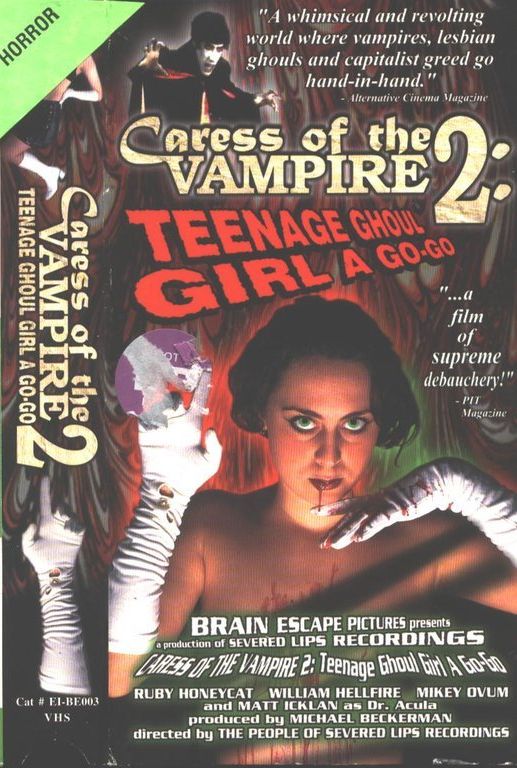 Year: 1996
Duration: 01:22:55
Directed by: The People of Severed Lips Recordings
Actors: Matthew Ike Angel, William Hellfire, Ruby Honeycat
Language: English
Country: USA
Also known as: Caress of the Vampire 2: Teenage Foot Ghoul a Go-Go
Description: Billy the Vampire turns a young woman into a lustful vampire in order to turn her into a rock star in a bizarre plan that seems to have no other purpose than that.
Without a real plot, but with the "actors" seemingly having a lot of fun running around in bad costumes, the movie goes on with scenes of female nudity and feet fetish.
It is worth a watch just to see how bad it all gets and take a few laughs.
Review: Here's another one from the Why the Heck Isn't This Here? Files. We have CARESS OF THE VAMPIRE and CARESS OF THE VAMPIRE 3 (as MUFFY THE VAMPIRE SLAYER), so why no CARESS 2, particularly since it's the best one! (And not having seen MUFFY, I am still confident in saying this it seems just like #1, which was fucking awful.)
After the surprise runaway success of CARESS 1, in a classic TROLL 2-style studio gambit, E.I. was seeking something, anything, with a vampire and some tits that it could slap a title on and christen CARESS OF THE VAMPIRE 2. Enter everyone's favorite crazy suburban enfant terrible, William Hellfire, who here makes his directorial debut to churn out some product to fit E.I.'s parameters. In classic Hellfire style, this project seems borne of a $100 budget, 1-2 days' time, and a desperate need on the part of E.I., for more product. However, Hellfire was clearly drunk on the delights of filmmaking, as this shows a lot more wacky charm than most of his rather desultory strangulation porn, where his skewed perspective and casual nihilism/misanthropy only occasionally come peeking through.
Trying to summarize the plot of this monstrosity is a bit of a challenge, as it makes only the tiniest bit of fucking sense, but we'll see what I can remember. Hellfire himself, looking all of about 19 (seriously) plays long-dormant Billy the Vampire, who is apparently already a celebrity ("from Chink Madness!?" everyone keeps exclaiming – I'm not sure if we're supposed to know what that means, but a Google search only yields hits for CARESS 2). Billy is awakened by everyone's favorite PROJECT RUNWAY contestant (NB: I have never seen PROJECT RUNWAY, but he's automatically MY favorite because he was in Hellfire's weirdo suburban disgusto-porn), Austin Scarlett, who comes sashaying into his suburban living room and gets bitten by his pet lizard. Stumbling around, he drips blood all over Billy's lips (huh?) and Hellfire is awakened from the dead.
Hellfire quickly transforms Austin into his first vampire minion in a scene that, in combining Hellfire's faux-Transylvanian lisp with Scarlett's naturally effete manner, edges weirdly close to homoeroticism that, honestly, I would have loved to see go further. Nevertheless, the two quickly take off to begin amassing an army of "foot ghouls" to satisfy Billy's fiendish desires. I guess Austin is just along for the ride…
Not for long, though! A quartet of teenagers break into Billy's house with the intention of partying, and Austin and Billy sneak off to take care of one couple. They swoop in, and this is the last we'll see of Austin, or any one of these three besides Billy, for that matter. (The sex scene between these two is probably the most graphic – I believe it provides the film's only female full-frontals – and it seems this couple, whoever they are, are the go-to exhibitionists of the Hellfire canon, as I think they're the ones in the cut blowjob footage from I WAS A TEENAGE STRANGLER, as well as the cut "prologue" to VAMPIRE STRANGLER found on the recent special edition, which, interestingly, takes place in the exact same room as a scene in CARESS 2, suggesting it may have originally been intended for this…)
Meanwhile, we also meet poor Dr. Acula, a crazed foot-fetishist podiatrist whose perversion compels him to murder his female patients and caress their tootsies. Somehow, after briefly making and losing a new Renfield-like servant out of one of the remaining kids in the house, Billy & Dr. Ac end up hooking up and finally create their first "foot ghoul," early E.I. scream queen Ruby Honeycat. Ruby turns into a bizarre 60s zombie go-go chick, and Billy calls an old record producer friend of his (Lon Strauss, played by a show-stealing Mikey Ovum) in the hopes that they can all cut a wicked surf album and climb the charts. Things really go bonkers from here. Ovum is a profane wonder as the record producer, spouting endless obscene non sequitors and generally yelling and carrying on like he's just spent 10 straight days studying the early John Waters canon. I can't quite remember what happens, but Billy & Dr. Ac both end up getting killed, and then coming back to life AGAIN as a vampire-zombie and a regular zombie, respectively. Things end with more singing, dancing, and murder.
The film's debt to classic counter-cultural filmmaking is self-evident, and while it's obviously made on a shoestring budget, that's part of the charm. The early work of John Waters appears to have been a key influence, and the soundtrack, which is actually quite good and which I'll soon upload separately, hops gleefully from grinding garage rock to industrial noise to 60s surf, rockabilly and go-go. Probably the best part of all is that CARESS 2 is an unabashed spit in the face toward anybody who liked part 1. If you like big tits, long sex scenes, or traditional softcore erotica of any kind, CARESS is the absolute antithesis of what you're looking for, and I can't imagine the untold numbers it must have alienated upon its initial release. However, if you enjoy the kind of weird counter-cultural angst that can only develop in a 90s suburban basement amongst a bunch of pothead teenagers with a camcorder (a strain running through all Hellfire's early work), then CARESS OF THE VAMPIRE 2 is a document for the fucking ages. Go in with the appropriate expectations, and I think you'll find you're watching an absolute masterpiece of gonzo, WTF SOV nonsense.
Screenshots:
Download: