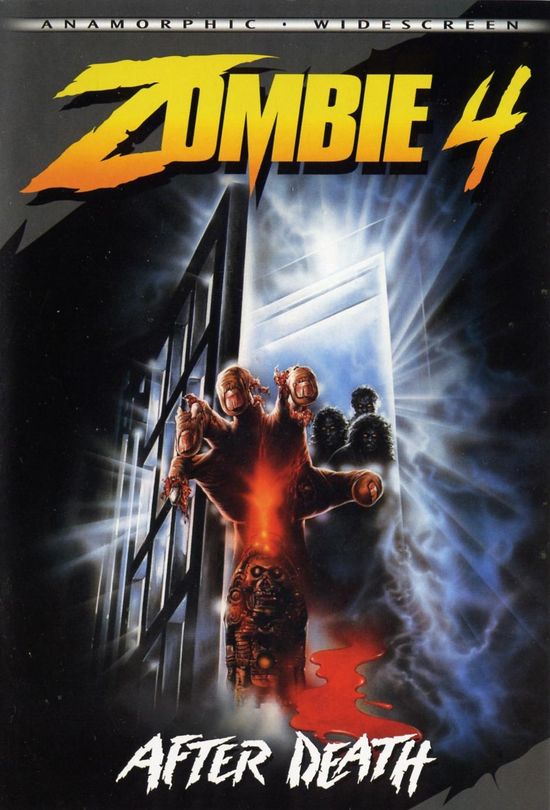 Year: 1989
Duration: 01:24:08
Directed by: Claudio Fragasso
Actors: Jeff Stryker, Candice Daly and Massimo Vanni
Language: English
Country: Italy
Also known as: Zombie 4: After Death, Das Böse ist wieder da, Hitokui jigoku: Zonbi fukkatsu, Zombie Flesh Eaters 3
Description: A terrible curse of the voodoo sorcerer opens up in the middle of a desert island the gates to the underworld. Hordes of undead break free and crave the flesh of the living beings. Blood flows like fountain, skulls fly into pieces, half-dead devour still living, who will stand against the evil attacksand not die in the fierce jungle island in the middle of the ocean?

The After Death was the fourth movie from the famous zombies series. The first film of this serie is called simply Zombie or Dawn of the Dead. It was publish in the year 1978. And the second movie is Zombie 2 or Zombie Flesh Eaters which was released in the year 1979.

Review: Among the zombies – the Italian film production is probably his weakest specimen. Another prequel of  "Zombi 5: Killing Birds", like all the other movies about zombies were born thanks to Lucio Fulci, "After Death" will not surprise the viewer what – something new in terms of plot. Of Voodoo, the "bad" scientists and talking zombies (!), Could be "blind" is quite interesting and intriguing plot, but Claudio Fregasso apparently in such a hurry that I had almost mindlessly grabbing pieces of scenes from other movies and combine them into a single unit. Desert island full of zombies, undead assault abandoned mansion – all we have previously seen, but in a more interesting way.
In the first part of the film, the events are delivered unbearably boring that makes you want to scroll down for 20 minutes in advance; something – where boring dialogues "peppered" liters of blood, but even that does not raise the audience's mood. The second part of the "saves" almost the entire movie. Dead by gunfire, fights, etc. – from that we had to start. Make-up of the Living Dead is not very good, probably not enough money and Zombies "dressed up" in torn rags, some – like having put makeup on the face, and even then not all.
As a result, we can say that the show has turned out very mediocre. Fregasso not pleased the audience what – something new and interesting; took off for "a penny" earned – ten. Oh yes, do not forget that at the time of the zombie movies have been doomed to commercial success. You can not watch these movies for the sake of high artistic merit, like the brilliant acting, try to enjoy the beautiful shooters, zombies and other things, unless of course you like horror movies and the euro – trash.
True fans of zombies – the genre, I think, will be delighted, and if you are a regular viewer, the "After Death", if only to get acquainted with the Italian vellikolepnym zombies – a genre does not fit all.
Screenshots:
Download: