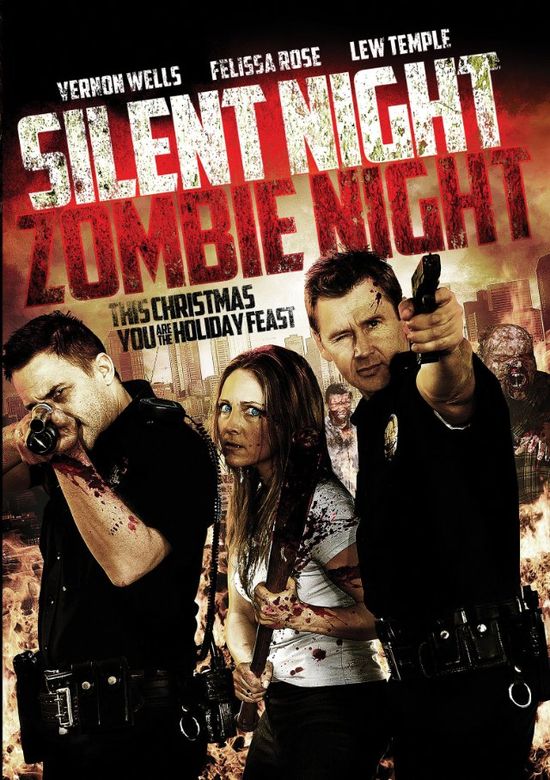 Year: 2009
Duration: 01:22:43
Directed by: Sean Cain
Actors: Jack Forcinito, Andy Hopper and Nadine Stenovitch
Language: English
Country: USA
Also known as: Silent Night
Description: A week before Christmas the population of Los Angeles is skewed to a mysterious deadly virus. Shortly after that, the city turns into a corral hordes of zombies, cannibals, and in the heart of the grinder is a police officer with his wife.

Review: "Silent Night, Zombie Night" is a zombie movie film from director Sean Kane. Who is Sean Kane probably few know that however is not surprising because the director is not worthy paintings.
Distinct from the plot of this piece is not observed. Most of the film the audience will watch as a policeman with his wife and her boyfriend will stick out of the house, and talk about their problems. And is that sometimes our heroes will walk around the city, where the swarm of zombies. About how these creatures spawn audience clearly did not say. Of course, I understand that in the movies zombie story is not always a major component. But, you know, other than household chatter in this film is actually about anything else and do not tell the viewer something to think about at all do not.
Especially funny how the made-up zombies, a feeling that the man ran a cake in the face. That's really not very impressive zombies. Even in the ancient Italian zombie movie 70 and 80 and then the more interesting and scary zombie. Take the same film, "The Seventh Gate of Hell" or "Burial Ground"
Returning to the theme of zombies, it is worth to mention about their behavior in general. Do you believe that zombies can knock the bat? Do you believe that if you sprinkle some spray itself is a zombie you would be more difficult to feel? It appears in this film is real. But I am even more surprised to see how slow and once slow zombies. Two cops are walking down the street in the thick of zombies and just push apart with their hands! No well that this kind of nonsense? I immediately raises the question: what did the U.S. Army? After all, zombies are slow, that these vampires could mow only one well armed force. But even the shooting, which there is, it is not enough, but it is. So this reminds shooting gangster shoot-'s 60's and 70's. Know that when a person shoots a gun and bullets instead he flies out the fireworks. Of course, I understand that a low-budget film about a mega special effects and can not speak. But I've seen much more sophisticated and spectacular, even in low-budget films, bearded 80-m people were shooting more entertaining movie.
Review #2: The film "Silent Night, Zombie Night" – a rather strong low-budget movie where the zombies paid no more attention than the conversations between the surviving humans. Movie peculiar intriguing plot and some creepy atmosphere, and the characters really believe in view of the fact that they have qualitatively well developed characters. It turned out pretty good, but some small budget imprint still put on film: the action takes place in a minimum of scenery. However, the minus of this particular do not: I would look as you dare to go far from your own home, if the streets of your city zakisheli millions of zombies.
As a fan of zombie movie, liked the film: a lot of zombies, a lot of blood, and humor, which is encouraging, too, is sometimes present. Sean Kane is not having a big budget to create a film, went on the contrary, he was intrigued by a small number of words and the entrance, a subsidiary of moments in the beginning of the film, the first minutes of immersing the viewer in a zombie apocalypse, and only then let the characters and heartfelt outpourings have and long dialogues present. "Bloopers" Of course there is, and absurd behavior of the survivors, as always slips, but against the background of the film, since he is loose, the eye does not hurt too much, even I would say that leaves a slight aftertaste, which means – sorry that it all ended quickly. In general, men take care, take care!
Screenshots:
Download: