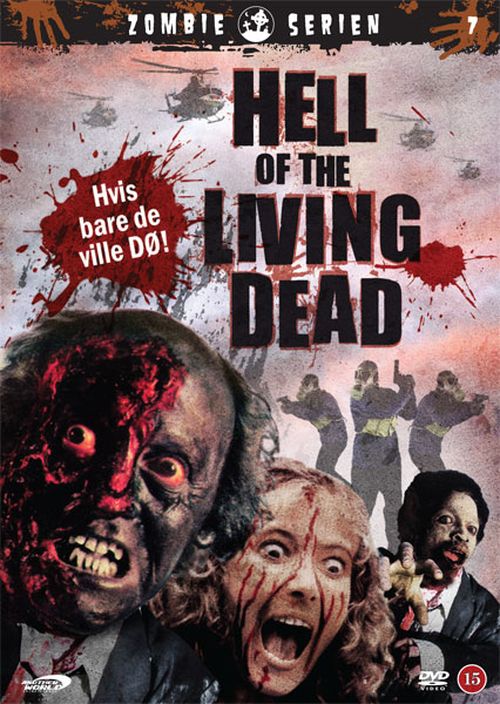 Year: 1980
Duration: 01:40:37
Directed by: Bruno Mattei and Claudio Fragasso
Actors: Margit Evelyn Newton, Franco Garofalo and Selan Karay
Language: English

Country: Italy | Spain

Also known as: Virus, Night of the Zombies, Apocalipsis caníbal, Die Hölle der lebenden Toten, Fate tous… zontanous, Hell of the Living Death, L'enfer des morts vivants, Virus cannibale, Virus: L'inferno dei morti viventi, Zombi 4, Zombi enantion kannivalon, Zombie Creeping Flesh, Zombie Inferno

Description: On a desert island there is a top-secret plant for the production of chemical and biological weapons . One of the cylinders with the unknown gas leaks out. The consequences of this dire: begin to revive the dead, killing everything on their way. On the island lands a commando squad, but can they stop the virus …
Review: "Hell of the Living Dead" – horror! In this case, the name at all about what not to say. Though I am a fan of Italian trash cinema, and in general, like was ready mentally to watch another trash – zombie horror … Yeah this madness (this is a compliment) I still do not have to see. To call this a horror film clowning just is not possible.
Fell on 80 – is commercially profitable genres snapped up all and sundry, and of Bruno Mattei (Zombi 3) with Fregasso not gone away, just riveted crazy, "explosive", a powerful thrash …
"Grab" the first thing that caught my arm – zombie genre, they decided to acquire as Lucio Fulci on his "Zombie", a lot of money. Bruno Mattei just started to consolidate its status as plagiarist and naturally this creation is the scraps of stories, previously removed zombie movies. Well, how can you not take advantage of favorable situation, when there is so much material to use? This sensational cannibal genre and post – apocalyptic fiction (to which Bruno put his hands in a moment) and a favorite to this day many of the fantasy genre.
From the first frame viewer notices Cheap productions totally inappropriate behavior of characters and dozens of silly situations … The real trash! Commandos dressed in blue shirts and neponytnye wrinkled cap, without stopping utter absurd on its pathetic dialogue and their actions as idiotic otherwise not name. Plus all seasoned "Latency" zombies, which are almost forced to get to bite. In these films. of course, never run cartridges and heroic characters with very little than can match. Just not without striking blonde as a reporter and the scene where she wears nude, distracting the viewer at a time when porosto have nothing to show.
And what awaits the viewer in the end this madness spiced with a pinch of humor? No happy ending …
Write about this movie is just a lot of pointless to be seen. If you are a regular viewer then this creature Italian thrash master Bruno Mattei, in your eyes will look like complete nonsense, not worthy of attention, but the fans of Italian trash and evrokulta can put this masterpiece of the most beautiful shelf, because this creature though is beyond common sense, but it is the height of the Italian celluloid Tesh – Olympus.
Screenshots:
Download: