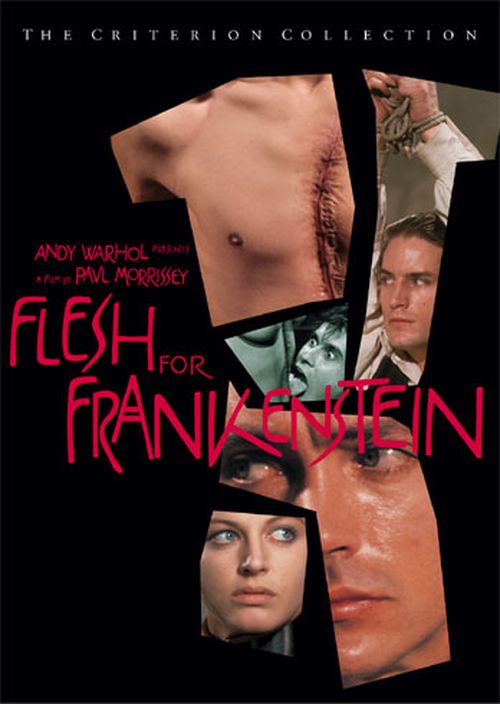 Year: 1973
Duration: 01:35:19
Directed by:  Paul Morrissey, Antonio Margheriti
Actors: Joe Dallesandro, Udo Kier and Dalila Di Lazzaro
Language: English
Country: USA
Also known as:  Andy Warhol's Frankenstein,
Description: Baron Frankenstein is obsessed with the idea of world domination, for which of the materials which he had, he sculpts the "ideal" man and woman, subordinate only to his power, and after sex, would give the offspring of a new formation – natural born slaves for Frankenstein. The girl is all right, but there is a problem with a man – need a suitable head "of the male," so that he would be in love with the perfect woman at first sight and immediately had sex with her … Determined to find a similar instance in a local brothel , Frankenstein and his assistant Otto beheaded by mistake not exactly the one they needed – a young man who was ready to become a monk …

And by the way, you can also watch Paul Morrissey's movie called Blood for Dracula, which was released in 1974. This movie has something familiar with Flesh for Frankenstein, it's full of nudity, gore and splatter things

Review: Baron Victor Frankenstein, obsessed with his own world domination of parts of the body gathers men and women, so that those he created a new race of people, his obedient and unquestioning slaves. But here there is one important catch: the new Adam has no head. Get it turned to Victor and his servant Otto is not easy.
The film "Flesh for Frankenstein", filmed in 1973 by one of the companions of Andy Warhol Paul Morrissey, is a very peculiar interpretation of the story of Frankenstein, almost without having anything to do with the novel by Mary Shelley. In the original this film have in common only the slipping between the lines topic pride of the Creator for his own creation, but the writers Tonino Guerra, Pat Hackett and Paul Morrissey film diluted philosophical reflections on the power of power, madness and crime and punishment by packing them, albeit in a thrash shell because of violence and other unpleasant details in the picture is more than enough. However, it is impossible not to note the work of stunning and stylish operator Luigi Kuveylera that created dissonance effect in the film, saturate to the same tape video series abundance of sex scenes, one of which is a very, very memorable for several reasons.
Acting in the film looks quite unusual, because it is very Expressive and extremely expressive. Udo Kier looks good enough as Viktor Frankenteyna, creating a highly autonomous and its image. Memorable characters turned out as Joe Dallesandro, Arnaud Zhyuerzhinga and Monica Van Vuren.
Great atmosphere in the painting creates a soundtrack, written by composer Claudio Djizzak.  I recommend this somewhat non-standard horror film to all fans of thrash and evrohorrorov.
The film Flesh for Frankenstein has it all – the idea of ​​taking over the world, the creation of a new man, of the victory of good over evil, a genius and villainy, and I suspect that's not all. It has love scenes, ranging from the most traditional, and the last is so exotic that you will reduce stress on the cheekbones. There will also be a little blood and guts. And, of course, the true male friendship.
And, of course, it would be magnificent, brilliant, terrific acting. This I'm serious, the game is so inspirational and convincing that if fleshfor Frankenstein, and will prevent you from falling asleep at night, but in any case remain impressed. If you feel that you are about to burst out laughing – it's perfectly normal, laugh on the health and grateful that Hitler was not born in Serbia.
I warn you once – the creators refused to bathe in such detail as the tricks, scenery, anything close to the reality of blood, etc.
Screenshots:
Download: