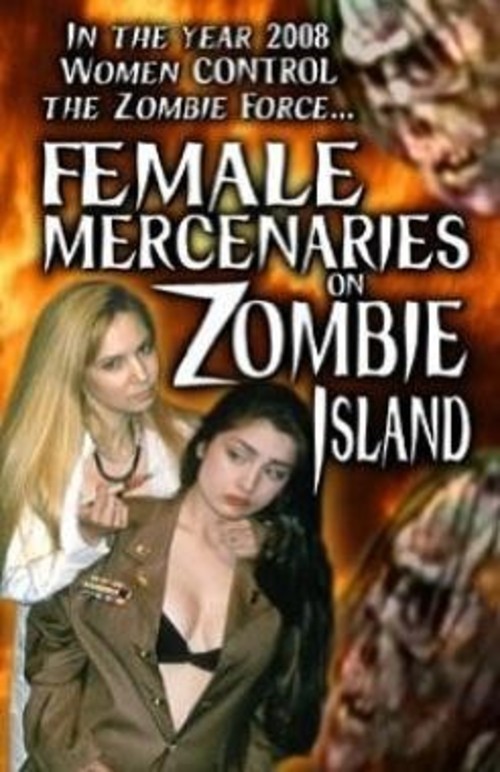 Year: 1995
Duration: 02:00:21
Directed by: Gary Whitson
Actors: Tina Krause, Pamela Sutch, Laura Giglio
Language: English
Country: USA
Also known as: Female Mercenaries on Zombie Island
Description: Filmed by director of Psycho Sisters movie. This horrible piece of backyard filmmaking comes from W.A.V.E. studios, who specialize in softcore "movies" aimed at dudes who like beating off to chicks being strangled and murdered. And while that is perfectly ok by me, when they attempted a "plot" more involved than "burglar chokes half naked girl to death. The End" they fell more than a little short.
The basic story: an asteroid hits the earth (in the year 2000), causing worldwide devastation. Now, in 2008, there are tribes of women (including Tina Krause) who just wear tshirts belted at the waist with no bra, knee-high socks, and either high heels or mary janes . Some follow an evil scientist (Pamela Sutch) who is transplanting brains and making mind-controlled zombies, which she controls with their appetite for human flesh.
Be warned: this movie is awful. The acting, the editing, the picture (is there a camera lower than consumer grade they somehow found?), the effects (the asteroid looks like a grey origami squirrel), and wonderful missed-by-a-mile stunt fighting. Also, despite the title, there is only one rotted/undead zombie, the rest are just the mind controlled type (although I guess they're technically reanimated corpses…) L.
What does this movie have? Several pairs of bare breasts, and bra-less, occasionally wet, women fighting in every scenario you can think of: on land, in the water, in the mud, in cardboard lab sets, even in a living room that looks like it was furnished in the '70s. Also, if you like seeing women strangled, bound, electrocuted, or cooked (be it in a pot or over a flame), you'll enjoy at least a little bit of this.
Screenshots:
Download: