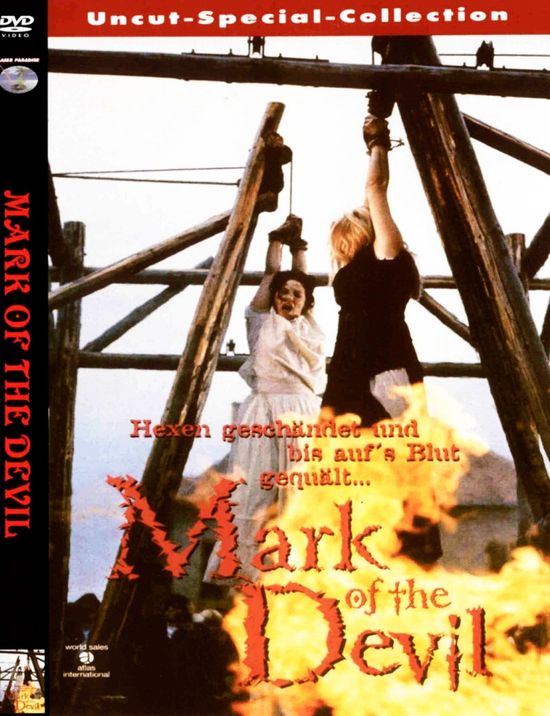 Year: 1970
Duration: 01:36:42
Directed by: Michael Armstrong
Actors: Herbert Lom, Udo Kier and Olivera Katarina
Language: English
Country: West Germany
Also known as: Hexen bis aufs Blut gequält, Burn, Witch, Burn, Austria 1700,
Description: Mark Of The Devil ain't no Cannibal Holocaust or August Underground, but it makes up for the lack of animal cruelty or pseudo-snuff with a real plot, incredible sets, an impressive cast, and most importantly, a bunch of frauleins in medieval garb getting stripped and tortured all in the name of God. My rip includes the commentary track from director Michael Armstrong, which goes into depth on how problematic it is making a movie with a bunch of actors speaking different languages. I also threw in the trailer, which is basically a highlight reel of the nasty scenes, for those who don't want to bother with a plot and stuff. Enjoy!
Review: "Printing the Devil" or "The tortured witches" (if literally translated the original German name), became one of the first films in the world, who tried to capture the atmosphere of the Middle Ages without romantic embellishment, in all its everyday horror. Word as it is shown in his classic film "Flesh and Blood" Paul Verhoeven and how long before the Dutchman did Gianfranco Mingotstsi in "Flavia". That's only in contrast to these films is no other purpose than to shock the viewer a string of bloody scenes and naturalistic depiction of torture, the creators of «Hexen bis aufs Blut gequält» not pursued. Well, maybe, make a name for banning the tape in civilized countries, since the late sixties in the level of violence on the screen it was the Outland. And mixed with frank eroticism, it is born absolutely intolerable to the mind of any censor picture.
Screenshots:
Download: